World Unknown, Known: Andy Blake Talks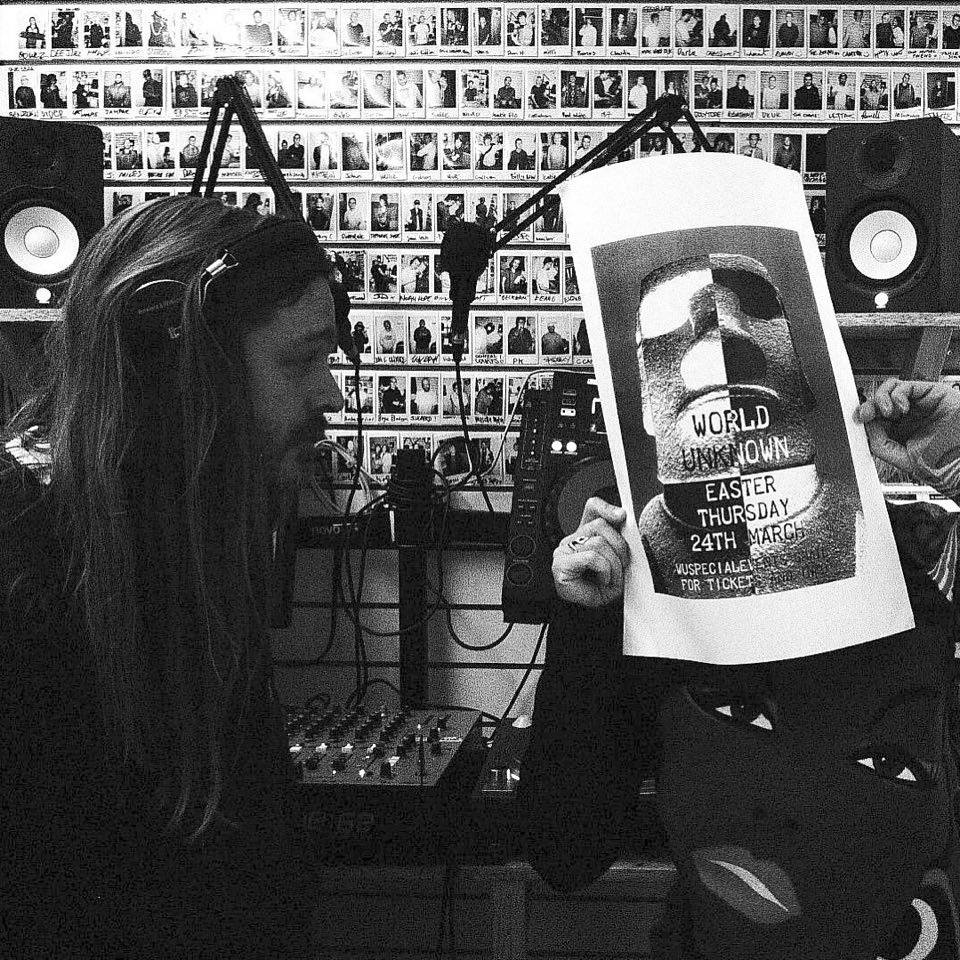 World Unknown has been one of these parties that if you go, you go. Once you've slipped through the door into whatever shonky rave shack the party is taking place in this time, you're guaranteed not to leave til the lights flood the venue. The mutant child of Andy 'Dissident' Blake and Joe 'Body Hammer' Hart, WU has taken place in a variety of illicit venues round London over the last 7 or so years, mostly in the arches and sex dungeons of forgotten South London. With a comittment to unearthing gems old and new, the WU playlist has covered everything from murky techno clank to lung busting Stevie Nicks sing-a-longs. Now it's time for a switch up. After a final monthly party this Easter Thursday, WU is shapeshifting, with Andy and Joe planning a series of one off raves, both in and outside of London. As with all matters WU related, keep you're ears to the ground and follow the smoke signals, and you'll find out what's going on.
We've been on at Andy to have a chat with Ransom Note for years, but he's not the most media courting of DJs, so we're happy to have finally pinned him down. We got him to tell us about the clothes, legends, tunes and cock ups that have powered World Unknown month in, month out for coming on to 7 years. Over to Mr. Blake.
Seeing as a party's not just about the music, what have been the most memorable outfits spotted at WU?
I'll start by flagging my pretty ridiculous d&g shirt covered in an enormous strawberry print, then Loz the rave wizard always gives good garm game, Matt Prin for the most buffed and pampered torso in the room, Umi dressed up as an outer space robot woman at the arch many years ago. And perhaps most importantly all the girls who feel safe and free enough at WU to take their tops off for nobody other than themselves. So far at least it's not exhibitionism or sexualised in any way other than 'this is me and so the fuck what' and people don't leer or perve or even take any notice at all really, it's just something that becomes apparent every once in a while in amongst all the naked sweaty male torsos. WU was the first time outside a very few gay clubs that I'd ever seen that and it makes me feel that if a bunch of people can come together and somehow make a space where that can happen for no reason other than 'fuck it, why the hell not?' then things aren't all that bad in our little corner of the world.
Have there been any disasters over the years?
As far as disasters go the guys from the arch disappearing into thin air and not telling anyone a few days before we had WU there was a bit of a classic. And then it led into one of the best parties we've ever done as we used the basement of the Peckham Palais and it rocked like something out of the early 90s. The NYE party we did in Deptford was another one of those. We didn't get the address out before the 3G network got clogged up with happy new year action. Cue me imagining an email inbox and fb event full of 'where's the fucking party dude?'. and then then they started arriving in their hundreds guided by God knows what cos literally nobody had the address, nearly a thousand of them by lights up at 8am
OK, so the biggie- what are the clasics that have run the dancefloor?
Les classiques du wu. Could have been any of many hundreds here but these are a few that always raise the roof right off that aren't just big wu records but also huge parts of my life that I've never stopped playing since I first got my sticky mitts on them in the 80s and early 90s
1) The Grid – Intergalactica.
Only ever came out as very limited promo which i picked up from bargain bin for 50p. dropped it at wu, pandemonium ensued. Straight on discogs to purchase a safety copy only to find out it had gone up to £250 in the interim period. Joe managed to snaffle one up for a decent price tho so we do have a pair of them now for extended vocal/dub 20 minute mindfrying workouts. Lets hope none of the low quality boot and chod reissue merchants are reading this and thinking of polluting people's record collections with a low quality product. but let's face it, they probably are, Johnny come lately vinyl ted culture snitch wankers the lot of em
2) Simple Minds – Lovesong.
One of the best ever pop group makes dance records ever. Serious dancefloor bomb. Me and a pal used to do a night at The Wag Club way back when poppers where popper and fuck me, did it do a number on the place. Fast forward 20 years to a murky railway arch and it becomes a mephedrone classic at WU, then when the proper bumbles showed up again a couple of years later oh my fucking god does the top of of everyone's head open and light start pouring in. alchemical disco madness in excelcis
3) Pet Shop Boys – West End Girls – Sasha Dub.
Superstar dj remakes of pop classics are usually the most godawful carcrash egowanks but not this one. Not really a dub, more a full vocal deep dancefloor progressive electronic masterpiece. Simply absolutely fucking insane and nigh on perfect in its execution. How much mr coe had to do with it we'll never know but at least his co-conspirators are credited somewhere, unlike these unscrupulous and deeply dishonest ghostwritten times. When you hear that 3 leading 'djs' whose careers are almost entirely based on their music and remixes share the same ghostproducer who never gets credited it's plain that shit is way beyond fucked up. Whistles need to be blown and p45s issued forthwith if we're going to save the disco from Thatcher's indie kids. Anyway, enough of that. back to business….
4 ) Grace Jones – Slave to the Rhythm.
I can't think of a better posh post-disco dancefloor production. All the way from 14 to a good way past 40 now this has soundtracked my life and it blows people away. A collective sharp intake of breath record if ever i've heard one. A glorious sonic and synaptic spectacle
5) The Project Club – Dance With the Devil.
There's a wonderful and very likely apocryphal story about this version being 'banned' after a collective mass freakout on the dancefloor one night at Camden Electric Ballroom or Palace (now koko) in 1988. Whether it's true or not its certainly possessed of a certain luciferian energy and a lot more weird and wonderful than the full release balearic version. Another one lets hope the naff re-press squad keep their stinky fingers off until they learn how to do it properly. Actually being into the music they rip-off would be a good start. How hard can that be?
6) Any number of Nitzer Ebb records.
Just genius, plain and simple and too many to choose from. There has always been talk on and off of doing a big one with them playing live but we've never got round to it. Maybe now we're not having to do a regular one every month we'll be able to make it happen. The Ebb, Front 242 and our good friend Emile Strunz, with Joe and I playing some records before during and after would be quite the night out I reckon.
7) The Weathermen – Poison.
Wild stomping midtempo white boy ebm rap gear. Does it like no other record does. buy one today.
8) Doomsday Project – Atom Bomb.
DJ Pierre in fine fettle. a pounding, out of tune and wildly apocalyptic 10 minute wild pitch burner. Lit the first ever WU up like a roman candle and will still be burning hard long after we're in the ground.
9) Virtually every record Murk ever made up until the mid 90s and a few after too.
These things used to sell a hundred copies a day in some Soho shops. Watching the pandemonium when a case of one of these got cracked open somewhere like Black Market or Quaff was a sight to behold. Like nothing we'll ever see again. One day there will be a WU where Joe and I only play Murk records all night and it will be one of the best we'll ever do.
What's been the weirdest piece of after party chat you've had?
Well, let's shift that slightly. WU has always had a large space unpolluted with music (other than the dull and rather exciting heartbeat thud of the dancefloor booming thru the floor or ceiling) for people to chill, chirpse and chat in. At the arch especially there was a whole scene downstairs in the bar where all manner of lurid conversations involving a very mixed bag of intelligent and erudite characters of all ages and from all walks of life. Nobody ever gives it the big about who they are and what they do at wu and it's taken me years to find out that we're surrounded by all kinds of genius level nutjobs there. long may that continue.
---
The final (for now) WU monthly is taking place on March 24th – more info on the Facebook Event over here
---
smile emoticon