Psychogeography: #16 – Romans In New York
There is something quite remarkable when a collaborative project is executed properly. Gunnar Haslam and Johannes Auvinen (Tin Man) are two artists who are fully established in their own right having both independently released on a number of prominent labels which include the likes of L.I.E.S., Delsin, Killekill and Absurd. They have produced albums to wide scale acclaim and built club tracks fit for dancefloors the world over. This in itself is endearing as it indicates that any form of collaborative project is not 'necessary' so to speak, but a labour and project of love. The end result is Romans.
We caught up with the two who gave us a guided tour of a city which has helped to form the basis of their relationship, New York.
"At times it seems that the primary goal of the Situationists was to get off the grid — the grid and the system was, after all, the primary way that capitalism invaded everyday life. Through a dérive one could explore a city with no preconceived notions and no influence from any source other than the city itself, allowing oneself to be drawn to certain zones of attraction and repulsed by others. Guy Debord's writings on psychogeography, that cities could be mapped along lines of influence, inspired us to consider the areas of New York that really suck you in — places that are not necessarily destinations in their own right, but exert their influence on the passerby nonetheless."
Tudor City Place, Midtown
In the cultural wasteland of Midtown, bland offices and even blander office lunch spots mingle with some of New York's worst tourist attractions. Walking on the east side, past Grand Central and up a slight hill, Tudor City is a small neighborhood with old, ornate apartment buildings and an unbeatable overlook of the UN and the East River. A quiet respite amidst the din surrounding it.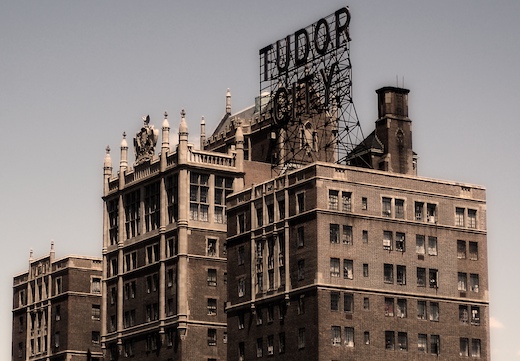 Fort Tryon Park, Washington Heights
Fort Tryon Park, one of New York's best parks, is certainly an attraction in its own right, especially given the Cloisters is housed inside of it. In the hilliest part of the city, Fort Tryon overlooks everything — the Hudson, the Palisades, Inwood, and the Bronx. It's full of bizarre and intriguing little corners to get lost in, as are the surrounding areas of northern Washington Heights.
Mosco Street, Chinatown
From the highest parts of Manhattan down to its depths: Mosco Street is little more than a glorified alleyway in Chinatown, nestled between NYPD HQ, the Tombs, and infuriating Canal Street. Dodging the tourists, there's plenty of little areas to get stuck in down here, always with a soundtrack of shamisen emanating from Columbus Park. Often you can find Romans at the Thai grocer around here, stocking up on fish sauce and green papaya for lunch.
Eastern Parkway, Brooklyn / Grand Concourse, The Bronx
The well-known promenades in New York, your Fifth and Park Avenues, are a mix of luxury retailers and sanitized public spaces best avoided. Far more impressive are the thoroughfares of Eastern Parkway in Brooklyn and the Grand Concourse in the Bronx. Cutting through neighborhoods where people actually live, there's plenty to get lost in here.
Sunset Park, Sunset Park
Sunset Park is one of New York's most undersung neighborhoods — a multicultural mishmash as well as the center of Brooklyn's Chinatown. Roaming the streets is always a good time, and just around 7th Ave where things start to slope downhill there's the park from which you can see much of New York Harbor. The best Banh Mi in town can be found at Ba Xuyen, and no stroll would be complete without a dip into Greenwood Cemetery.
---
Buy the release HERE.