James Wilson's Dance Mania Influences
James Wilson, artist in residence for the recent Dance Mania compilation on Strut, has taken time out to detail the artists that have inspired his artwork for us…
He notes; "When I was approached to produce the album artwork for Strut Records Dance Mania: Ghetto Madness compilation, the first thing I did was to stick on some of the music and immerse myself into that world. I also watched a little 10 minute documentary on youtube that proved to be a useful insight into the personalities and the mindset of the individuals producing the songs."
"I was already familiar with ghetto house music from when I illustrated DJ Funk for Crack Magazine a couple of years ago. My creative process for that was to read the accompanying article and pick out the bits that stuck in my mind and that would make for an impactful image. He mentions boobs being flashed in his face a lot at gigs and from image searches on Google, ghetto house nights look pretty wild, so I wanted to capture that within my drawing."
"My main source of reference for the album artwork was the DJ Funk piece. I wanted it to look even rawer this time around so I kept it black and white to emphasise contrast and the hand drawn feel. The lines/sparks that erupt from around the figures (also featured on the DJ Funk artwork) that kinda looks like a firework exploding is a trait I picked up from when I used to read comics like 2000AD and Anime movies like Akira and Ghost in the Shell, in my eyes it adds a bit more drama to the image and draws your eye to the central characters.
"When I'm working on artwork for clients I often refer back to my own work as I like to try and keep a continuity of style. With each new piece I try and do something a bit different, to evolve my work in some way, although there are certain stylistic choices I always stick to to maintain that continuity, for example the way I draw hair. The artists that I admire all have their own styles that are instantly recognisable, so here are a few of my favourite artists that currently inspire me."
This is a french illustrator I discovered about a year ago. I absolutely love this guy's style! He has some really great, quirky characters, usually based in unusual street environments. I enjoy the depth within his work, there's always so much going on that you can miss at first glance.
French is a UK based illustrator who produces some pretty morbid looking stuff! When I first saw his work many years ago I was instantly jealous and wished I had his style. I like the detail in his work but in particular the emphasis on the hand drawn element. A lot of the time now I will go straight onto the computer to produce artwork using my tablet, mainly for convenience and ease of editing, but always with the aim to give it that hand drawn looking finish.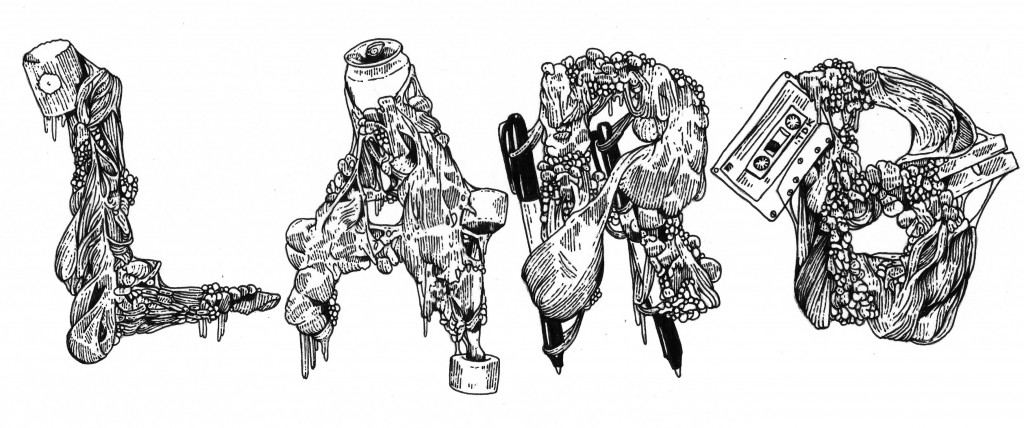 Johnny Crap (real name Jonathan Bergeron) is a Montreal based artist who works in mainly oil paint but also pen and ink and digital. I've admired his work for a long time, he often paints characters from classic movies in particular Star Wars in weird scenarios. For example, one of his paintings features a gangster C-3PO complete with bandana riding a Sand Crawler. Pretty awesome. Movies are a big influence within my drawings and I enjoy movie references in others' work.
I've been lucky to work with Timba on a few projects for Little White Lies magazine. Another artist with an instantly recognisable style. In particular I admire how he seamlessly blends his design and illustration work together without compromising his style. He has some pretty mad texture skills too.
I enjoy the humour and the characters in Kyle's illustrations. He has a great eye for composition and usually works within a limited colour palette, which can be a challenge but in my opinion ties together the elements of a design in a more sophisticated way.
You can see the time and love that goes into Sam's work, with delicate line work and earthy colours. There's a lot of consideration for strong composition and again an emphasis on the hand drawn approach.
Dan's work is immensely detailed, another artist I was instantly jealous of when I first saw his work. Although his work is really bold and detailed his limited colour palette makes the image easier to digest upon viewing and the high contrast of his line work gives his illustrations a massive impact.
Tall-Boy
There's a lot of twisted humour in Tall-Boy's illustrations and I like the low-brow style of his comics and characters, usually featuring monsters, skulls and Satan, like something taken from a horror B-movie.
Sometimes if I feel like my line work is becoming too tight I'll look at Lauren's work for inspiration, she has a real natural loose fluidity to her mark making and is one of the most expressive multi-talented artists I've seen. She works in pen and ink and also paint and completely smashes both.
Although not an illustrator I actively follow, I respect Jason Brookes' style and continuity with his characters. His artwork for the Hed Kandi compilations are infamous and I thought of his designs while working on the Ghetto Madness artwork. His work is very clean and polished, with smooth colour gradients which perfectly reflect the well produced music on the compilations. I wanted my work to be the grimy looking alternative with a stark contrast of black and white line work and a dirty, textured hand-scrawled title that would reflect the music on this release.'
---
Dance Mania Ghetto Madness throws down at FABRICLIVE in Room 2 on 20th March w/ Tyree Cooper, Parris Mitchel, Bodyjack and Special Guest Bok Bok. Full Details