Space Rocking With Surgeon
Kidderminster was just another non-descript small British town that I happened to grow up in. At least that's what I had thought anyway. This was all flipped upside down when Surgeon, a.k.a. techno goliath, British Murder Boys-Anthony Child-Surgeon, Instagrammed a picture of his younger self making music in that very town I had once called home. That same, small town where supposedly nothing happened had harboured a secret right under my very nose. It seems there was more to Kidderminster that I had given it credit for.
'Mixing at Squalor Studios, Kidderminster 1993' writes Surgeon next to the Instagram post.
The vintage image of a young, curly-haired Anthony Child has aged well over time. The photo was taken during his time in Blim – a psychedelic, space rock outfit based in the Midlands. Prior to his career as a genre-defining, techno artist, Child was producing noise with this proto- psychedelic act, making a bizarre, cacophony of guitar fuzz, reverb and chaotic electronic hum.
Kidderminster can be found just under 30km away from Birmingham, and has always been more of a satellite town to its larger neighbour. With a population of around 50,000 people and a football team in the country's fifth division (now sixth, it hasn't been a good year for the mighty Kidderminster Harriers), it's far from being a globally recognised, cultural hub.
When I was getting into music at around 1992, the town was coming out of a small, minor musical renaissance. This part of the UK had a certain music lineage that was instrumental in the overall music development of the country's scene. Over the past few decades the local musical community spawned the likes of Led Zeppelin, Clint Mansell (Pop Will Eat Itself), The Wonder Stuff and Ned's Atomic Dustbin, i.e. British music's defining sound of the mid to late 80s.
"At the time of that picture I lived in Balsall Heath, Birmingham," Child writes over email when asked about the picture.
The soon to be techno-DJ had relocated to Birmingham from a village in the East Midlands towards the end of the 80s and enrolled in an audio-visual design course. The studio in which the picture was taken belonged to (and still does) to Ade Scholefield of Omnia Opera. A band that also featured Neil Spragg (a.k.a. Sir Real), Blim's drummer, and Child's soon to be techno – cohort.. Both bands, Omnia Opera and Bliim, were part of a growing Midlands' collective of psyche-rock, Syd Barrett-esque act that were gaining cult-status, all influenced by the likes of ELO and Alan Parsons.
Throughout their brief career Blim released just two albums. Alongside Spragg, the band consisted of Andrew Read on guitar, Ben Gardiner and Robert Illesh on bass, and various other contributing woodwind players and percussionists. Anthony Child added the effects, reverbs, samples and keyboards to the musical-mélange, all the while wearing a 'surgical mask'. This was undeniably where he got his techno pseudonym from, setting him up for decades to come.
"Andrew Read, the guitarist sent me that picture, which must have been taken when we were working on No Frills in '93," explains Child.
The album's title was taken from a cut-price range of goods from local super Kwik-Save. A supermarket I had worked in when I was a teenager. "No Frills was actually a tribute to Kwik-Save," Child explains, "[it was] where we shopped for 3p tins of baked beans at the time."
Had I been a bit older, my time stacking shelves would have been interceded by proto-rock, electro hippies feeding their psychedelic feeding habits.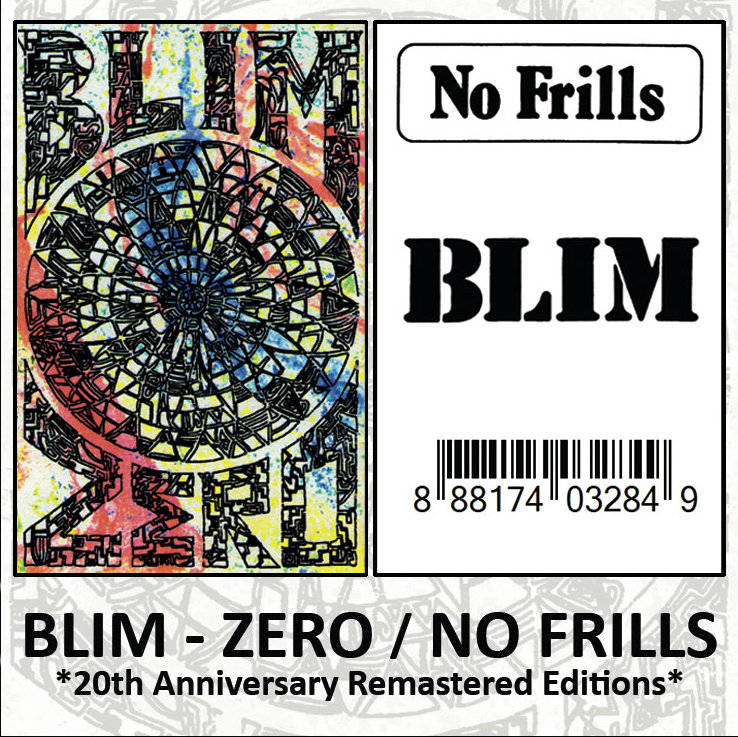 Sir Real
No Frills was released on cassette in 1993, and it was at around this time that Anthony Child's affiliation with House of God and that harder-techno community became more renowned. "When Tony left to pursue more lucrative, and no doubt creatively satisfying avenues, the band morphed into a short-lived outfit called Pod," Spragg writes. This was not the end of Child's involvement with the Midlands' based space-rock crew. In 2002, Blim guitarist Andy Read teamed up with Child to release Guitar Treatments, an improvisational, avante-garde album that explored new notions of ambient fuzz. Without a doubt this period of Child's musical output also inspired his largely forgotten 2013 ambient record The Space Between People And Things.
Child and Spragg would go on to team up with DJ Paul 'Damage' Bailey, to help establish Birmingham's House of God club and develop the local techno revolution. It was the beginning of a new variety of techno that became associated with Birmingham and the Midlands; a scene that also housed Regis, Female and American DJ David Sumner, after he relocated from the States.
Blim's No Frills recently celebrated its 20th anniversary and was finally re-released on CD, having previously only been available on cassette, finally documenting this once forgotten period in the Midland's musical heritage. Listening back, the bubbly, college-prog, ELO sounds of Blim are not one that will often be affiliated to Surgeon. And although there was no techno revolution-taking place on my doorstop, the catalyst behind today's harder-techno sounds was taking place in the studio of a psychedelic, student band somewhere in this small, uneventful Midlands' town.
---