Error Subcutaneo: The Wednesday Alternative Mix
Here's something a little bit different this Wednesday, an eclectic mixtape from two exiled twenty-few-year-olds from Dominican Republic. Mauro and Gonzalo produce music as Error Subcutáneo, channeling elements of electronic influence alongside jazz and percussion infused sound design.
Their sound sits somewhere between the midst of downtempo and draws upon balearic influences, albeit with an abstract, experimental approach.
Earlier this year they released a beat tape which caught our attention and in all honesty deserves wider acclaim. Finely tuned, grainy experiments which meanders between hip hop and the odd.
We invited them to record this mix and in all honesty weren't entirely sure what we might get. To be honest, that is what makes the project so exciting. This is a mix made up of entirely original material from the pair, a real treat.
Listen and read the interview below:
Please introduce yourself…who are you, where are you and what are you?
Hey, we're Mauro and Gonzalo from Santo Domingo, we're a sort of improv duo and we play with a lot of grooves and textures that you'll be able to get a glimpse of during this mix, which is made up of 100% original material by us.
What does your music sound like? Can you draw what you think it sounds like for us (an image from the old internet is acceptable)?
Internal dialogues, urban cacophony under a sweltering sun, the pervasive aroma of sea water and smog, sharing a cold one with a homeless kid, getting mugged in broad daylight, that sort of stuff.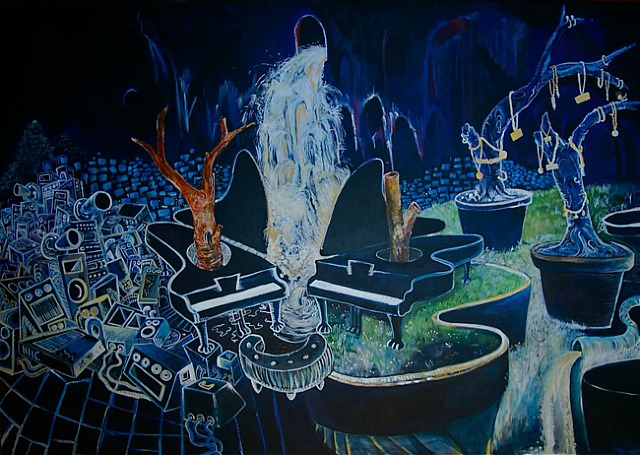 Where was the mix recorded?
Ableton.
What would be the ideal setting to listen to the mix?
A dimly-lit, wood-fitted living room with a good stereo and some LA weed.
What should we be wearing?
Clothes?
What would be your dream setting to play a concert?
A quiet place somewhere in the mountains, where we can create music far away from the fallacies of modern life.
Which track in the mix is your current favourite?
Laika, which plays at minute 24:00, cracking that creative firewall really felt like decoding an Enigma machine.
What's your favourite album of all time?
Mauro: Unchained Force by La Sonora Ponceña.
Gonzalo: Luis Dias with Transporte Urbano.
If you could play with any artist from throughout history, who would it be and why?
Gustavo Cerati back in the Bocanada and +Bien era… he was a genius writer and a pioneer for that kind of electronic music in Latin America, it's not surprising his music still appeals to our generation to this day.
What was your first set up at home and what is it now?
A 2009 MacBook connected by AUX to an old Marshall amp and some DW Drums belonging to Gonzalo's father.
What's more important, the track you start on or the track you end on?
The track you start on, 'cause once you get 'em hooked you can really play with that attention span…
What were the first and last records you bought?
Mauro: I bought my very first CD when I was around 9 and it was CAB4 with Tony Macalpine, Patrice Rushen, Dennis Chambers etc… my first vinyl after that was Unmanned Vehicle by Tissu on MÖRK, it really fried my brain (in a good way) 'cause I'd never heard anything like that before. Last record was a Poly-Rythmo de Cotonou compiler, forget which one.
Gonzalo: The first record I bought for myself was probably Seasons In The Abyss by Slayer at the peak of my metalhead phase. The last one I bought was No Base Trio, featuring Leo Osuna, Jonathan Suazo and Gabriel Vicens.
If this mix was an edible thing, what would it taste like?
Like a freshly opened, just-before-freezing bottle of Coke.
If it was an animal what would it be?
Ashy-faced owl, which is endemic to our island.
One record in your collection that is impossible to play along to?
Mauro: "Endangered Species" from Pat Metheny and Ornette Coleman's Song X.
Gonzalo: "Big Drum" from Buell Neidlinger's album of the same name.
Upcoming in the world of…
More music, less bullshit.
Anything else we need to discuss?
Yeah, go buy our LP if you like our stuff and keep an eye out on 2021…
Visit their Bandcamp HERE.