Random Facts With… Super Furry Animals
This month sees the release of Rise of the Super Furry Animals, the definitive biography of a band who alternated between writing exceptional Welsh psychedelia, going on field trips to guerrilla heavy South American jungles, and blowing cash on ex-military vehicles (a heavily armoured tank, since you asked). So what better time to fire a load of random, almost utterly unrelated facts at SFA lead guitarist and Little Blue Dots frontman Bunf? Who knows where we're going to go with this? Colombian electrocution customs, the inherant frequency houseflies hum at, and the band who play MWNG better than SFA- that's where we're going…
APPARENTLY IN COLOMBIA YOU CAN PAY A GUY TO ELECTROCUTE YOU.
You can probably pay someone to do anything to you in Colombia!
THERE'S A GUY THAT WALKS ROUND, CHALLENGING PEOPLE TO HOLD TWO ELECTROCUTING RODS. IF YOU HOLD THEM FOR A SUFFICIENT AMOUNT OF TIME YOU 'WIN', HOWEVER, IF YOU DON'T THEN YOU HAVE TO PAY.
Right okay, I didn't know that. I imagine there is quite the thriving black market around there. I suppose though, in Colombia, you kind of have to blag your way around everywhere. We turned up with a camera crew and we were 5 pasty looking Welsh guys. If you turned up at a village and you wanted to film, you'd have to have hard cash!
SO WAS THAT FILMING FOR MUSIC VIDEOS?
Yeah, it was amazing. The airport is one of the highest in the world, I think you're 5,000ft above sea level when you land. You have to get used to it, as it's kind of weird.
APPARENTLY THERE'S A COLOMBIAN CUSTOM OF PUTTING PIECES OF CHEESE IN PEOPLE'S HOT CHOCOLATES. DID YOU HAVE THAT WHEN YOU WERE THERE?
Well I'd imagine that cocoa beans and hot chocolate are pretty much a staple diet out there, but not with added cheese. I didn't come across that, no.
I CAN'T IMAGINE I'D BE PARTICULARLY EXCITED ABOUT THAT.
No… That sounds… Not very nice really…
They don't actually sell any cigarette papers in Colombia.
THEY DON'T?
No, you can't get any.
Ah yes, I rememeber it WAS THE SAME IN MEXICO! YOU HAD TO BUY THEM OFF PEOPLE IN THE STREET.
Yeah, it's very strange. When they found out we were British they didn't want money off of us any more, they just wanted loads of Rizlas! It was like:
'What, you don't want money?'
'No, we want Rizlas.'
THE BLACK MARKET OF RIZLAS.
Yeah! You could make an absolute killing off of it over there. If you opened up a factory for cigarette papers you'd be minted.
SO, MOVING ON, YOU AND GRUFF MET ON A TRAIN. IS THAT CORRECT?
That is correct, yeah.
DID YOU KNOW THAT AMERICA'S FIRST STEAM LOCOMOTIVE LOST IN A RACE TO A HORSE?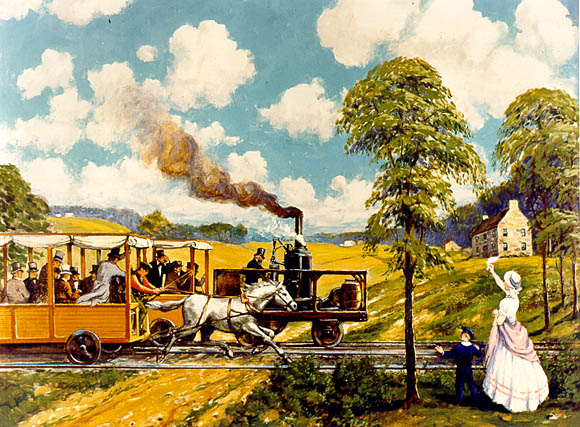 Yes! I think I did know that actually. There were a lot of entrepreneurs around then. I think the guy ended up with egg on his face really as he challenged the guy with the horse…
YEAH, HE SAID SOMETHING LIKE 'THE LOCOMOTIVE COULD DEFINITELY GO FASTER' AND THE HORSE ENDED UP TOTALLY RINSING HIM. NEVER CHALLENGE A HORSE FOR YOUR FIRST RACE.
You'd have to handicap it somehow.
WEIGH IT DOWN. YOU WERE SAT ON THE ROOF OF THE TRAIN WITH GRUFF AND GOT KICKED OFF DIDN'T YOU? THEY'VE GOT BIG SWINGING BALLS ON TOP OF TRAIN LINES IN INDIA TO STOP PEOPLE DOING THAT EXACT SAME THING.
Oh really? That's a shame. I'd really recommend it actually as it was honestly one of the best ways to travel.
WAS THIS IN WALES?
Yes, it was in Wales. It wasn't the fastest of trains, a horse would definitely beat it. But that wasn't what we were on the roof for really… You get a full 360-degree panoramic view. I'd recommend it.
NICE! SO; INFLATABLES. OBVIOUSLY YOU'VE BEEN PARTIAL TO SOME INFLATABLES ON STAGE. DIDN'T ONE OF YOUR INFLATABLES BLOW UP ONCE?
Yeah. It was an ongoing battle between the evil bear and the good bear. And the evil bear was coming through almost every time. The good bear just kept deflating a little bit, not quite fully deflated. It was as if it was in the strange metaphysical state, as you'd have this thing where the evil bear was clawing down on the good bear. Maybe it's a sign of the times? I dunno! But I think in the end we always had problems with the good bear…
WHAT'S THE MOST SPURIOUS RUMOUR ABOUT CREATION RECORDS THAT ISN'T TRUE?
That Creation was a kind of indie label. In fact, I think 51% of it was owned by Sony, at all times. So actually, it probably wasn't an independent label.
IT WAS FULLY BACKED.
They were proud of being indie! I guess that's calling it pedantic though. It was perception management a lot of the time I think. A lot of indie labels tried to make out that they were a lot cooler than they actually were. I think they all got their come-uppance in the end.
THEY PRE-DATED HACKNEY BEING 'TRENDY', DIDN'T THEY – IT WAS A TOTAL WASTELAND AROUND WHERE THEIR OFFICES WERE…
Oh yeah! But I suppose a lot of parts of London were like that back then though. There was only really the central bit of London and everything around it, it's quite synonymous of the last 20 years or so really… I don't think I ever went to that part though, that was very early on.
THE GENTRIFICATION OF LONDON IS EVER ACCELERATING.
Yeah, it's crazy. It wouldn't surprise me if it was a gated community by the end.
IT PRETTY MUCH IS ALREADY ISN'T IT?
It won't be like in Israel or the Berlin Wall. There'll be a nice privet hedge growing around London.
YOU'LL HAVE TO GET YOUR CHIP SCANNED AT THE TOLL BOOTH AS YOU COME OFF THE M25.
And then if you're lucky you'll be able to go through the hedge. You might get tunnels under the hedge like you did in Glastonbury. In the good old days.
ALRIGHT, SO: SOME RANDOM ANIMAL FACTS. HOUSEFLIES ALWAYS HUM IN THE KEY OF F.
Interesting. The earth reverberates at a frequency that I think is somewhere around E. E minor maybe.
I DIDN'T KNOW THAT!
Yeah, so it's got its own minor key.
DO YOU THINK THAT'S RELATED TO 'THE HUM'?
It might be. I think you have to do seismic graphs and then transpond it or something, and then change the frequency into a tone. There might also be a thing where you can listen to the earth with something like a radiograph.
NO TWO TIGERS EVER HAVE THE SAME STRIPES.
Yeah, I'd imagine it's the same with most animals. Like, if you've got a pet – I've got a Jack Russell – and you look at it closely you can actually see loads of different intricate marking on it. Like sometimes I'll see another Jack Russell and think it looks the same as mine, but when you actually look closely they've got all these little details in their fur, and even the way it grows.
THERE ARE A MILLION ANTS FOR EVERY HUMAN IN THE WORLD.
Okay, wow.
ARE THERE ANY RANDOM SUPER FURRY FACTS THAT WE SHOULD KNOW?
Did you know that we've never been to India?
NOPE, I DIDN'T KNOW THAT.
Never been to India and never been to China.
BUT YOU'VE BEEN ELSEWHERE IN ASIA?
Yeah I know, it's strange. We seem to have circumnavigated the two huge almost continent sized countries.
SO THE LAST ALBUM WAS BACK IN 2009, IS IT DORMANT NOW OR IS THERE ANOTHER INSTALMENT IN THE WORKS?
Well actually we're going to play in a benefit gig this Friday and everyone will be there apart from Guto who sadly couldn't make it. We're actually going to be performing our own solo stuff. So that's pretty imminent. I guess just watch this space! (They announced their first set of dates the week after this 'interview' took place. Ed)
I know that we've got the book coming out soon, or is it out now?
I THINK IT MIGHT BE OUT NOW. I KNOW THAT IT HAS BEEN WELL DIGESTED IN THE OFFICE.
It's strange because it's not really a biography, I've read a bit of it and it reads like… There's a disclaimer in the back of it anyway, because it's kind of like a documentary drama kind of thing. If you wanted to know things like how we got certain sounds from drums and things like that, then it's probably not the book for you! If you don't like reading biographies about bands, then it's probably actually quite a good book for you.
I GUESS PEOPLE LIKE A BIT OF MYSTIQUE THOUGH.
Yeah, exactly. Most people would probably say that biographies have to go down this certain avenue of realism and ticking off lots of facts – getting everything lined up and following a timeline. But this is all over the shop and I can't remember some of the things that happen in it.
BUT YOU HAVEN'T REALLY FOLLOWED A TRADITIONAL PATH AS A BAND HAVE YOU?
No, no. That's true. I think he's done it in that sort of way, and that's deliberate.
SO IS THE BAND A LITTLE BIT DORMANT AT THE MOMENT, OR IS IT JUST BEING WHAT IT IS?
Yeah, it is what it is. We're just really looking forward to Friday actually! Actually, I should mention that there's going to be a record out soon… Mwng is going to be getting a re-issue!
OH REALLY?
Yeah, we're hoping! It will all become apparent soon enough.
There's actually a really interesting fact that your readers might not know, you know The Coral? They actually play it better than we do!
REALLY?
Yeah. We went to their studio and they played it for us and it was amazing! It was a much better rendition of it than we did.
YOU SHOULD HAVE A 'VS' AND THEN LET PEOPLE VOTE TO DECIDE WHICH IS BEST.
We do one of theirs and they do one of ours. It would be quite amazing to see.
---
Super Furry Animals definitive biography Rise of the Super Furry Animals by Ric Rawlins is out now. MWNG is getting a deluxe reissue on May 1st and they also head out on the road for their first shows since 2009 at Cardiff University Great Hall on 1st May, Glasgow Academy on 5th, Manchester Albert Hall on 6th and Brixton Academy on 8th.
Here's a nice picture of Bunf to be going on with too…