View From The Side: If House Is A Nation, I Want To Be President
Warning: What you are about to read was written by an American. Please excuse the lack of the letter 'u' in certain words and the over-use of the letter 'z'.
We all know that cliché everyone seems to like throwing around: "fuck politics, let's dance", or various derivatives of it. The simple fact of the matter is that dance music is a political beast and that statement is often parroted by some of the worst offenders. There are so many examples of clique'd-out parties, podium speeches, underhanded dealings, gig trading, press release-fueled "journalism", campaigning, shaking hands, kissing babies, nepotism, money used to buy career DJ/producers and so on. We'd be a lot better off to take DJ Sprinkles' route and flat-out acknowledge the politics of dancing so we can better deal with them. As President House, I won't shy away from political issues. I will face them head-on, direct from the nation's dancefloors.
The US is approaching another election year so, before we get started on the campaign trail, let's reflect on the previous eight with one of the most calm, cool, and collected presidents America has ever seen. Sure, some folk in the past have said Bill Clinton was "the first black president", coming from a poor single-mother household, playing the sax and also presumably being the first president to receive fellatio in the oval office. And maybe he paved the way for Barack Hussein Obama, the nation's first half black, half white president, who has been called out many times for not being black enough. Going from hanging a Hussein in Iraq, to putting one in office, America experienced a crazy turnaround after eight years of the good ol' gunslinging, oil tycoon cowboy that was Bush Jr.
Race is a social construct which may explain why Bill Clinton was given black brownie points for his socio-economic upbringing, whereas Obama was raised middle-class white, but Barry is certainly America's first true black president – by skin color, culture and dance moves. This is where we pick up, as I believe dance is something universal we can all agree on and celebrate. Even before he was president, he honored one of house music's founding fathers, arguably the most important one, a real George Washington, Frankie Knuckles. Obama, then a Chicago senator, shook Frankie's hand in dedicating the street where the legendary Warehouse once stood as Frankie Knuckles Way and declaring 25th August 2004 Frankie Knuckles Day.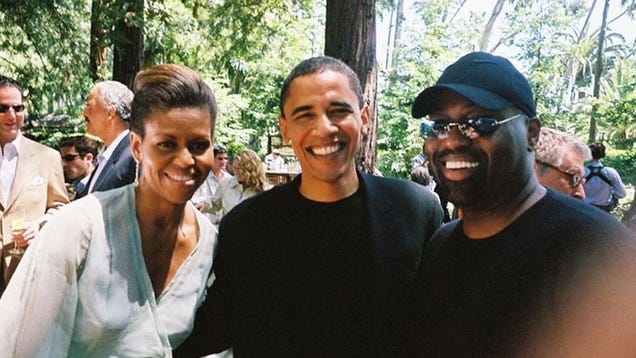 After The Godfather of House Music's passing, and this time from The White House, the Obama family sent a letter with their sympathies to the friends and family of Frankie Knuckles. What really solidified the president in the hearts and minds of the people as the first house head in office was this year's 4th of July, when Obama sent a video congratulating The Chosen Few DJs and wishing them the best with their annual Picnic, a Chicago staple.
Most recently Obama released a summer Spotify playlist – a service we have some bones to pick with – using the tagline: "Your summer just got a little groovier." And, while it was house deficient, it did feature artists that helped influence and shape the more soulful and gospel oriented Chicago house sound such as The Temptations, Isley Brothers, Stevie Wonder, Sly & the Family Stone, Aretha Franklin, Al Green, Otis Redding, Nina Simone, and more. Indeed, Obama has paved the way for house music on Capitol Hill. As my neo-soul sister Georgia Anne Muldrow said: "If you got a White House, then you need a Blackhouse."
2016 sees the possibilities of giving us America's first female president, albeit still within our history of political oligarchy, Jewish president, or non-Democratic donkey, meaning a real jackass, Donald Trump. After the recent success in poling of Deez Nuts, I feel that the nation is helplessly ready for something new. I, President House, am here to provide you an alternative. In leu of an original announcement speech, but in line with someone else writing it for me, I've decided to just copy and paste some Roland Clark lyrics:
"If you vote for me, I promise to deliver you even more bass, even more soul, longer hours on the dance floor, DJs who believe as we believe. If you vote for me, I will take you to the mountain top and there the whole world will see the glorious light of this nation that is house. You see people, house is more than a nation; house is a feeling, house is a sanctuary, house is a release. House will pick you up when you feel down, house will make you strong, when you feel weak house will fill you up when you feel hungry. If you vote for me, I can make the sunrise take a little bit longer, I can make the dance floors just a little bit stronger. So y'all can stomp y'all's feet all night long, clap y'all hands all night long."