Review: Further Perspectives and Distortion
Post-punk is a tradition of a dead generation, weighing like a nightmare upon the brains of the living. It has been for the last twenty years, at the very least. We have been living in a post-punk revival since 1999, perhaps earlier: both independent guitar music and underground club culture are marked indelibly by the influence of the post-punk generation. Or rather, perhaps, an idea of what post-punk was: all (yawn) angular riffs, terse rhythms and moody white boys with angular hair. From James Murphy watching the Rapture through landfill British indie, electroclash, and er, 'wave', to today's crop of basically bloody boring rock acts (Fontaines D.C., Idles, Girl Band, etc.) and meaningless tags like 'post-punk techno'.
It's this dull inheritance of the years 1976 to 1984 Cherry Red upends with Further Perspectives and Distortion. Further because Perspectives and Distortion was a compilation released by the same label in 1981, bringing together a ramshackle crew including Brit-jazz loon Lol Coxhill, future Everything but the Girl man Ben Watt, and progressive rock dinosaur legend Robert Fripp. Further Perspectives and Distortions is similarly expansive in breadth, featuring many of the same acts across its three discs, but also taking in the sounds that emanated from South London's squats (ATV, This Heat), multiple varieties of noise and improv, additional prog dinosaurs (Soft Machine, ex-Soft Machine man Robert Wyatt, Henry Cow, etc.), and even making room for Surrealist jazz joker George Melly.
So many of these threads may appear unconnected at first. The conventional tale we've heard so often in BBC4 documentaries follows: punk destroyed the tired music scene of mid-seventies Britain, chucking out the longhairs with their even longer guitar/keyboard/drum solos, while post-punk picked up where punk left off while drawing on a few additional influences – dub, funk and Krautrock, primarily. Further Perspectives and Distortion offers a different, more compelling version of events: punk and post-punk offered a new lease of life for the most interesting of the prog old guard, while this old guard's influence could be felt in the most experimental of the groups that emerged from punk's proclaimed Year Zero. Certainly more so than the Sex Pistols or the Clash, at any rate. It's not Simon Reynold's hardcore continuum, but the art rock continuum.
Take the inclusion of Henry Cow's 'Industry' and This Heat's '24 Track Loop'. The two bands were deeply connected by lineage, but according to the logic of our conventional tale, you'd never think to put them together. The former quintessential middle-class prog-rockers, obsessed with virtuosity, weird time signatures and solos, the latter noisy squatter making deeply confrontational music buried in the bowels of late seventies South London. Yet taken together both tracks compliment each other beautifully: widescreen, clattering jazz-rock for freaks. Further Perspectives and Distortion is full of juxtapositions of this kind, with an in-depth accompanying booklet penned by Mark Paytress allowing you to draw out the connections beyond sonic similarities, making a release of experimental music somehow highly entertaining, a refreshing feat in itself.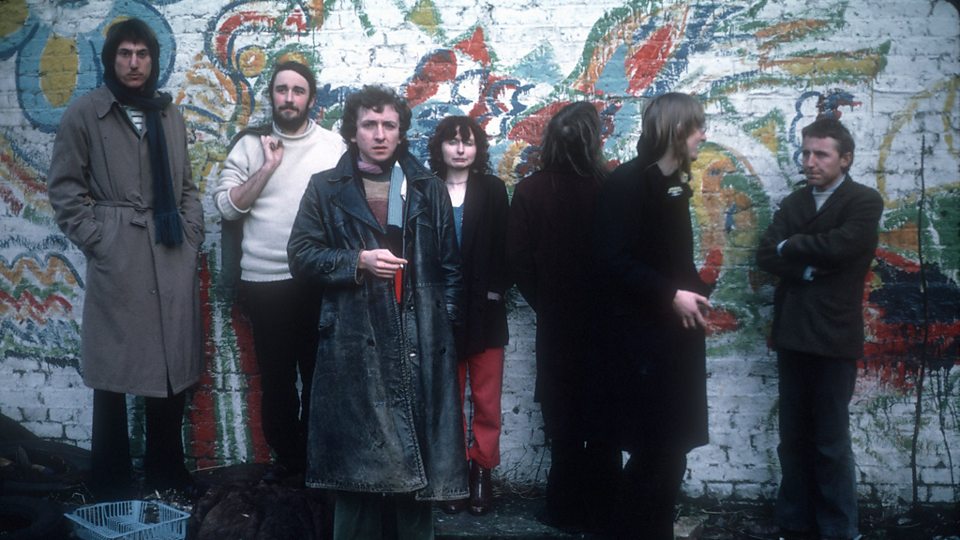 It's also refreshing to be reminded, in typical Cherry Red fashion, that much of the music from this period is not cool. Certainly not in the sense that post-punk is considered perennially so. It's music that stinks of real ale, Marxist paperbacks and roll-ups. And that's just Robert Wyatt. Yet Further Perspectives and Distortion depicts a time and milieu(s) who were deeply committed to experimentation, to pushing musical possibilities and chucking the rock/jazz/classical/pop/punk rulebook out of the window. Musicians (and non-musicians) who were capable of making sounds that were both hilarious and heartfelt. Bands and artists who were firmly committed to radical politics beyond sloganeering or poseurish stance-taking. It's not cool, but it's admirable.
This year – this decade, even – if we must be continually reminded of post-punk anniversaries or have post-punk 'revivals' heralded, it would be wonderful if Further Perspectives and Distortion provided the blueprint. It won't, of course. But as an alternative history of the years '76 – '84 it's an excellent starting point. Like The Work, post-punk band formed by Henry Cow's Tim Hodgkinson? Go listen to The Lo Yo Yo! Into This Heat? Check out Camberwell Now or Lifetones. The art rock continuum runs deep, and there are few better releases to take the plunge in.
---
Check out Further Perspectives & Distortion.