Camden Crawl 2014 – a reflection
"Spiritualized are the best band ever!", " Really? Let me throw this curveball at you then…..The Kinks".
Yes, you guessed it- this is Camden Town and that was a typical conversation overheard at the Camden Crawl. A festival held in a place that still promotes itself as London's centre of "alternative culture", even though no one actually goes to see bands there anymore, leaving the place to be a bastion of a rock n roll nostalgia that just won't die. But it was a beautiful sunny day and I thoroughly looked forward to spending all my time inside with short intermissions of wading through throngs of tourists and teenage Goths. Totally feeling the "festival" vibes here but thankfully some of the bands made it worthwhile.
On the Friday evening down the lower end of the high street at Belushi's, Vodun summoned the ancestral spirits into the room with a sound akin to Aretha Franklin jamming with Black Sabbath. The band played a heavy soulful metal groove which got the crowd moving, definitely worth checking out. Back up the road to The Good Mixer which was trying to relive it's heyday by staging a 90s revivalist party. The Black Tambourines, mod targets pinned to their guitar straps, played a pleasant Britpop-esque set in one side of the bar whilst the football was on the telly on the otherside. So authentic, like a period movie, they must have really put the effort in.
Just catching the end of Dirty Beaches at the Electric Ballroom, it seems living in Berlin has rubbed off on Alex whose sound was dark and danceable, reminiscent of Deutsch Amerikanische Freundschaft and Suicide. Dirty Beaches would have been better suited to a smaller venue, the energy was definitely there to create a club atmosphere but the place was half-empty.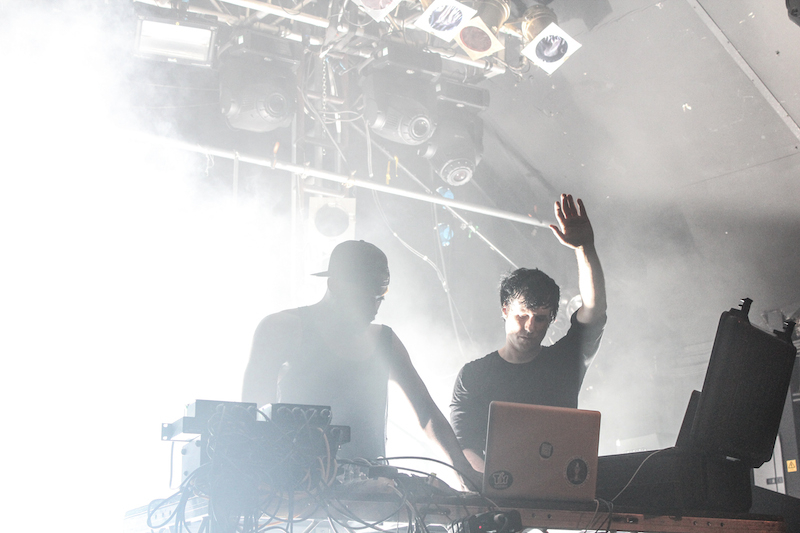 Like a defibrillator for the anarchic soul Atari Teenage Riot played an incredible set. It was as though someone had put a jet engine in the room. As powerful and political as ever Alec Empire declared that for '20 years the music industry has had a problem with us, they don't like having people like us around…FUCK THEM!'. ATR showed up a lot of bands on the Friday, never playing down their politics to make themselves more appealing and displaying a conviction that younger bands starting out in these hostile times should really take a note off.
With Krept and Konan at the Underworld that night it appears the Camden Crawl is attempting to break out if it's image of being a rock-oriented festival. It's easy to see how this would be a logical decision as Youtube, iTunes and music streaming sites have made access to hearing new music easier than ever, so consequentially people's musical tastes tend to be broader. However this doesn't necessarily mean the different music scenes mix as much as one would expect. In fact some of the Crawl crowd appeared a little lost and uncomfortable in the space that was now occupied by the Grime-loving Other. A small group did what most drunk people do in this type of situation; take the piss. The RWD DJs- whilst playing an absolutely banging classic garage set- dealt with (quite roughly, and rightly so), a reveller obnoxiously throwing wet paper at them and randoms walking up to the booth demanding crap, possibly the last Kasabian single. Krept and Konan's DIY story is as rock n roll if not more so than anything approved of by the typical CC audience, however the grime duo played to a tiny crowd made up mostly of friends and followers. One of the best moments of the festival was seeing them leave the Underworld with their crew behind them chanting their track 'Don't waste my time!', a defiant "up yours" to the awkward crowd. Without getting too philosophical about it, the boys from South London brought a energy with them that Camden still wished it had.
Saturday saw the Crawl return to it's usual fare with Jeffrey Lewis and the Jrams receiving the biggest cheer for his Guthrie-lite song about an American's love for the British cafe.
Of Montreal, brought some Summer of Love vibes, their visuals looked a bit like they found an old video tape of someone's computer graphics degree circa 1989 and alongside their dance-influenced twee indie sound it was a tad cliche. The crowd responded as such with some "hands in the air pretending we're high on acid" flowery dance moves, all in all good fun for a summer's evening.
Adrian Crowley's intimate performance in the beautiful St Michael's church lit by candles was a highlight of the weekend, the venue was perfect for his sombre but enchanting performance.
The summer heat was just too much for Slaves – they had to play bare-chested. This led to a similar need to underdress for those in the pit and so it all got very reminiscent of the early 80s hardcore scene at CBGB's. Great to see a duo creating a racket with just some drums, a couple of cymbals and a guitar, 'Where's your car Debbie?' was the highlight of the set and showed off their Kent wide boy swagger to it's best. Then it got a bit emo with Johnny Foreigner, in a good 'we love Texas is the Reason!' kinda way rather than the really wrong My Chemical Romance kind. They started with an acappella number then went into their melodic punk pop inducing those of us who remember this sound the first time round into some old-skool dance moves and waves of suburban childhood nostalgia.
The problem with Camden Crawl is that it just doesn't feel like a festival, in an already busy area there's no atmosphere to bring people together so it feels a little anodyne. Like the commercialisation of Camden, the Crawl is essentially a music industry expo but instead of being held at the ExCel centre it's awkwardly spread across various music venues and pubs meaning it lacks an identity. Relying on Camden's long dead rock n roll past is not enough. What's unfortunate for some of the bands is that the crowd seemed to be made up of industry people, bloggers and those blokes who still spend £50 a month on CDs recommended to them by the NME. The rest looked a little bewildered as though they thought they had booked tickets to a music festival and ended up on a purposeless night out in some dingy pub with the World Cup playing in the background.