New Aphex Twin Album Announced Via Darkweb
So it turns out that the sight of an Aphex Twin blimp floating in the skies of East London was indeed a harbinger of the first new album from Richard D. James in 13 years. Last night the Aphex twitter account posted a link that gave details on the album – in a canny comment on web surveillance culture, the link pointed to an address only accessible through Tor, the deep web browser that guarantees anonymity. On clicking on the Tor link, you are taken to a page with the album title, Syro, and the titles of the albums' 12 tracks.
http://syro2eznzea2xbpi.onion

— Aphex Twin (@AphexTwin) August 18, 2014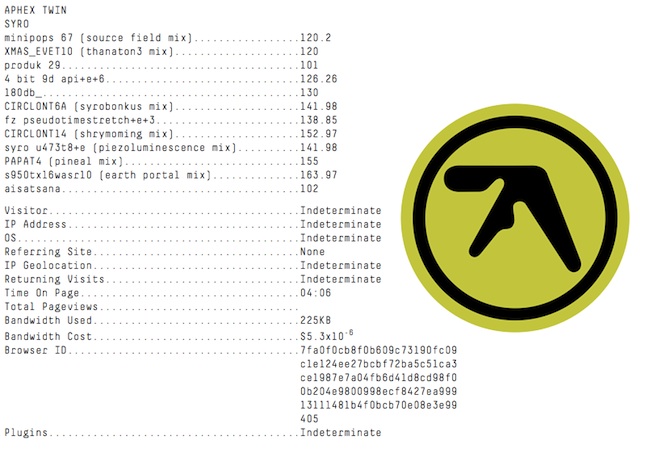 Another link was uploaded that was accessible through standard browsers – http://syro2eznzea2xbpi.com/ – but this link redacts the details of the Aphex album, and instead shows you an unsettling amount of information about your browser, your location, who your service provider is and what plug ins you use.
Whilst there hasn't been any new music from Aphex Twin since 2001's Drukqs, this year has seen the long lost 'Caustic Window' LP surface on Youtube to widespread acclaim – who knew work from James stands up against artefacts from his classic period will soon become apparent….
---
If all this wasn't enough for you, there's also an 'Aphex Twin jerk sauce logo plate' going on eBay. Why not bid and see if you can get your hands on this miraculous piece of memorablia?