Electronics And Performance: The Rebirth Of The Live Set
Departing Guardian music editor Michael Hann declared rock music to be moving into its' 'jazz phase' on leaving his post this year. In his view, rather than being a creative force of its own, the music existed to be fetishised as collector's items. After five decades, electronic music has never been so widely followed or existed through such a multitude of artists, represented firstly as DJs and secondly as live acts. Increasingly a third way, of ephemeral, one-off, live performance is being enabled by technology and is appearing more and more at clubs and festivals. As electronic music approaches the giddy heights of rock's popularity it is still innovating in the ways it can connect with fans and dancers and creating plenty of reasons to be optimistic for its future.
One key collective committed to the advancement of their craft come together as The Mulholland Free Clinic. On the surface the story of is the latest evolution of four friends sharing the energy of their jam sessions with a peak-time club-crowd. The quartet, made up of Juju and Jordash, Move D and Jonah Sharp has been slowly but steadily on the rise to mythical status across Europe. They are musicians reacting to innovations in hardware and sound systems as well changes in attitudes that are converging to push electronic music into a new and exciting direction. Their story is also just the start of how electronic music, devised and played spontaneously in the moment, can bring a room of people together to enjoy music that exists only then, created spontaneously, just for those present.
The live act has always been a part of the club scene and forward thinking artists from Richie Hawtin to Juan Atkins have been chipping away at and tinkering with the formula to push it to its full potential for years. There has always been a rigidity in electronic performance that has limited artists compared to kraut rock, post-rock or jazz bands that can improvise a response instantaneously to the atmosphere of the room and adapt to suit the mood of the crowd. Electronic music has always taken inspiration from these genres and as club culture matures, it is beginning to finally realise the potential so long talked up by the early innovators such as Derrick May, Carl Craig as well as writers and academics such as Simon Reynolds and Mark Fisher.
As always Detroit lays a decent claim to first at the party with Underground Resistance' bombastic fusion of drum machines, synths and MCs making select appearances across the US and Europe in the 90s. Influenced by the likes of James Brown and Funkadelic they were able to create music on the fly however the tours were expensive and the risk of equipment being lost, damaged or stolen always there. May and Craig were performing together as early as 1992, although always felt under pressure from audiences and promoters wanting the hits, such as "Strings of Life" or "At Les."
European artists such as Basic Channel and Ableton founder Robert Henke as Monolake also saw the potential for a more ephemeral form of dance music. Monolake could captivate audiences through innovative performances where the development of his own software is inseparable from his own musical output.
In terms of performance, the 90s music industry latched on to many live electronic and dance acts, deciding that spectacular shows were the way to bring the music to mass audiences. Acts like Daft Punk with their pyramid, The Prodigy with their snarling punk energy on stage. Orbital and The Chemical Brothers had their lasers and Basement Jaxx cherry picked a little of all of the above. Now the biggest dance act on earth, early videos of Daft Punk convey the electricity that manipulating synths and drum machines live can inject to the club.
The French act have later been lauded for the scope of their live shows but criticised for repeating the same music night in night out, moving well away from their hardware routes.
The first decade of the 00s reconciled dance with guitars, from LCD Soundsystem to the Klaxons or The Rapture. In the second noughties decade, stadium electronic acts like Disclosure, Justice and Deadmau5 emerged, with huge social media marketing circuses often placing style over substance.
Since then the desire to take dance music back to its roots of connection and innovation has ignited a new wave of promoters behind pioneering festivals such as Freerotation, Labyrinth and Unsound. The nurturing music policies of their programmers and trust from the crowds have allowed producers the chance to develop ideas that can finally bridge the gap between the studio and the stage. They have allowed skilled and experienced electronic musicians the chance to experiment and to tap into what makes the electronic music experience so unique – the direct interaction with the crowd.
The explorations of sounds, environments and people over many hours are what makes the club experience so unique. On any given night at any club so many factors are at work, from the individuals in the rooms, their mental states, their drugs, their feeling for the music, this can have a far bigger say than how well the artist plays. As Swede Sebastian Mullaert once of Minologue explains:
"One of the most beautiful aspects of the electronic dance music scene is that the audience is an active part of the music. The audience are through the dance becoming directly part of the musical expression and in this very moment an experience is taking place."
There has always been the idea that a club live show had to revolve around a hit or spectacle. This is despite great producers often lacking the appetite for performance. At the club level live performance can often be sterile for this reason, a public facing search for identity and a sense of self. Improvisation may be that according to Mullaert.
"When improvised music really happens it happens right now and then it's a strong reminder to everyone about NOW."
During the 00s the development of Ableton opened up many possibilities for electronic musicians to take their performance away from the script and closer to traditional jazz or rock bands. With each generation of the program it gave producers a tantalising glimpse into what was possible, allowing them to reimagine themselves as a conductor and their studio as a band on stage. This initially led to a wave of laptop live acts appearing at clubs and festivals, however this was usually based on the reputation of the artist as a producer rather than a performer.
Over the past few years acts like Voices From the Lake, Magic Mountain High, KINK and Kassem Mosse have sought to take performance one step beyond with a hardware based approach. The key to their success has been their willingness to reach back in time, adopting jazz techniques of improvisation, placing their equipment close to the crowd like at a punk rock gig.
Wider knowledge has allowed them to step away from their well know material and reach into their inspirations, jamming out a uniquely absorbing, hypnotic, immersive experience. Jonah Sharp of The Mulholland Free Clinic states:
"Usually it is a much better experience for all when a band get to play a show in a smaller club on a low stage where everyone can see what the musicians are doing instead of everything hidden from view, as is the case quite often. We get pretty messy/ sweaty! As long as we have good monitoring we prefer playing close to the crowd."
Being invited into what is effectively a live jam, when done well is perhaps the ultimate musical experience. It is is one of an absorbing, immersive flow, it is about the there and then and requires patience and trust from the audience. Live jams welcome the listener into the sonic universe of the artist. Ideas are raw and real, genres are blurred, spliced and juxtaposed. Mistakes can happen. Listeners are familiarised to the sound, it allows artists to explore ideas. They create an ever-evolving, stimulating sense of dynamism and risk.
More a collective of like-minded souls, it includes of some of dance music's most inventive but often-uncelebrated characters; artists with long histories honing their craft at the periphery of the scene. These scene stalwarts have become familiar with their audiences through their various solo projects and fans feel they have an intimate relationship with them. The old guard however have been fired by the fresh energy of new producers, especially in the lo fi scene such as Ross From Friends or Terreke.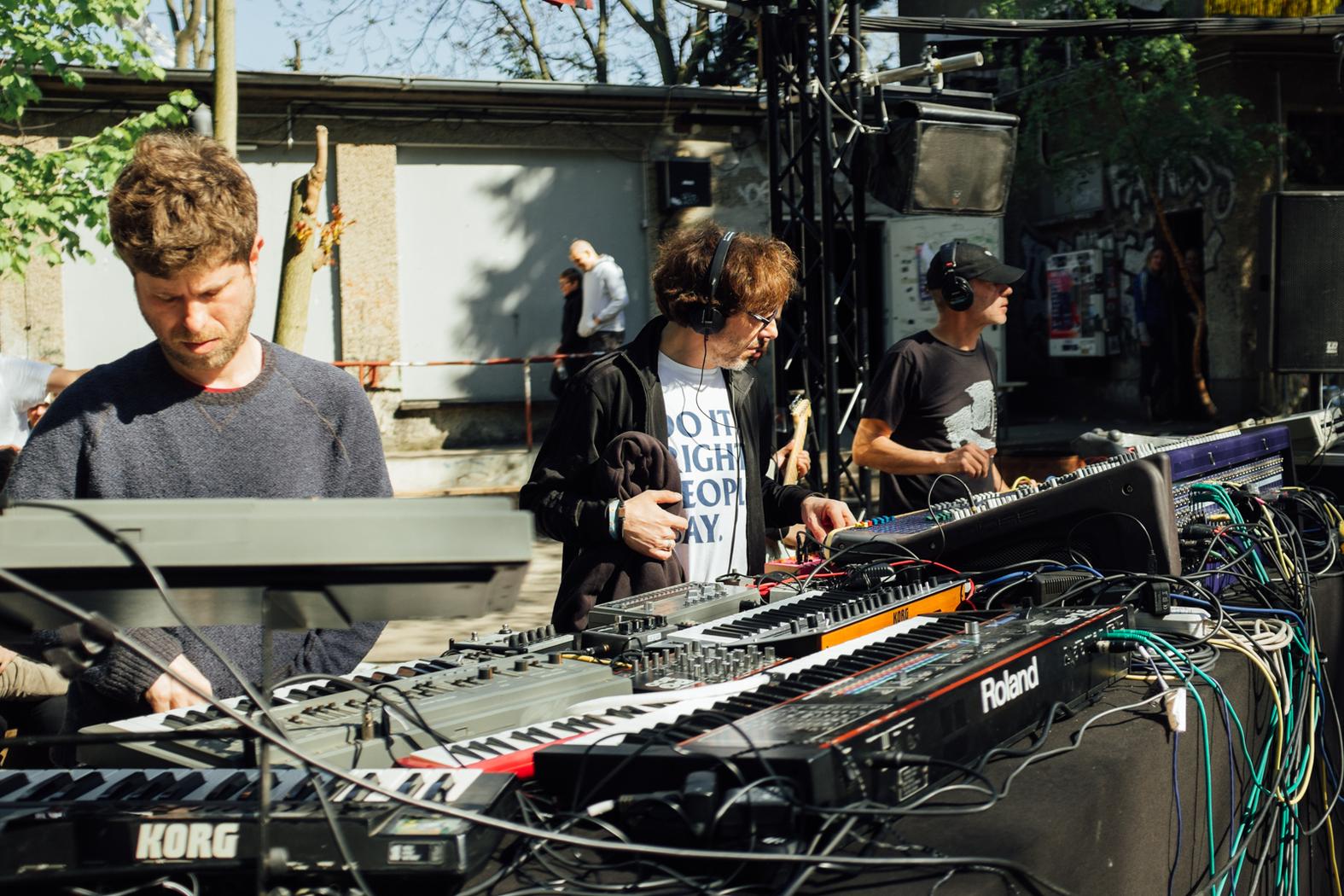 For all intents and purposes TMFC are a combination of 90s formed Reagenz and Juju & Jordash.
Move D, one half of Reagenz with Jonah Sharp, is also one third of Magic Mountain High. MMH, is the stoner house music band David Moufang formed with the Netherlands based Juju & Jordash in 2011. The Amsterdam based pair have themselves been playing together for 11 years. They have developed close personal and musical relationships and this as much a part of their appeal as the music itself.
TMFC was formed at Unsound Festival in Krakow back in 2013 and released their debut album this year through Berlin label Away. From humble beginnings, more recently a headline show at the 4GB festival in Georgia showed just how far they and the potential for live improvised house/techno has come. On the periphery or Europe thousands of ravers gathered on an abandoned Soviet satellite factory for their set. If the venue had 4G then its safe to say that Shazam would have been useless for their performance. As Jordan GCZ of MMH says: "our approach is improvisational so naturally jazz is a great guide."
Mullaert agrees.
"I love to express myself with improvisations and I feel it helps me to stay very present and alive on stage, which for me is the most essential thing for an artist as this is something that is transmitted to the audience."
Along with musicians reaching back in time and across genres for their inspiration, there is generational change in their audience. The first wave of internet kids on the edge of Gen Y – now veterans in clubbing terms – are being buoyed by a fresh swell of millennial kids who have never known anything different from having the whole world of music at their finger tips. This mingling of energies as well as open minds and fertile imaginations allows acts like TMFC or MMH the free reign to bring their many, many years of experience to bear. TMFC are intentionally or otherwise anti anthem with a focussed approach of continuous flow to keep dancers going rather than intrusive individual tracks. Jonah Sharp of TMFC states.
"It's nice to see really young people getting excited about seeing/hearing live gear and hopefully getting inspired to take some risks and considering options outside of the an automated clip launching live sets."
This is buoyed by club sound systems on the whole improving month by month, new venues not prioritising sound are soon found out. Competition in PA technology is heating up, and a new wave of innovation from brands such as Void as well as many independent workshops challenging established names like Funktion One and Martin Audio are widening the market. Add this to the emerging clubs bringing the audiophile experience into the public domain, such as Brilliant Corners in London and it's not hard to see why producer's imaginations are being fired like never before to make them want to go out there and perform. The rising tide raises all boats, creating the possibility for an artist to make and perform music for the club environment without worrying that the subtleties and complexities of their work will be inevitably lost to bad sound or poor mid range.
On the other side of the desk, at the musician's fingertips, classic equipment that has shaped the sound of house and techno for decades has been re-released in compact, digital form. The Roland TR8, and TR9, which while not always as well loved as their illustrious forebears enable producers to take their studio on the road and accurately reproduce their sound without the worry of damage or loss. Jordan explains, "when it come to the TMFC set up we have some workhorse pieces of gear that are always there – usually some rolands-a tr909, SH101, tr606 , JX3P , tr707 etc That is more or less also the case with J&J, MMH and Reagenz. On top of that we bring some more poly and digi synths (on our latest couple of shows we had the roland D50 , Korg Minilouge and Korg Volca fm for example). Jonah brings along his modular synth rack and pyramid sequencer and we have a bunch of pedals and effects ,both on the mixing board and on separate instruments. Lastly there is the good ol' guitar."
Sharp adds; "There's never been a better time to get into live hardware and explore all those possibilities, music technology is pretty exciting right now, all the things that were hard to achieve before are now getting easier."
The collective's debut album, is fittingly an ad hoc live recording of an open air set from Berlin's About//Blank club in 2016. The promoter that night was Andreas Horn of Away and after months of work he signed the project to his label Away Music. He observes:
"Never has electronic music been at a juncture where four individuals with such a recording and performance history, jamming on an array of electronic instruments, is quite rare. To allow that rare union some breathing space over a few hours of performance makes it unique."
For collective's such as TMFC, Kraftwerk is an undeniable influence. Early inspirations – from the abrasive onslaught of Caberet Voltaire in 1983 in Sheffield to the exceptional grooves of Benjamin Brunn. Kraftwerk, later incarnations of Suicide. Meticulousness and drive to be recognised as something distinct of Can, Tangerine Dream.
Until now electronic music has struggled for persona when it comes to taking the stage. Free wheeling acts like TMFC or KINK who are not afraid to mix it with the crowd and get sweaty are finally moving things on from this image. Without the performance aspect and the emphasis on studio trickery for moments of drama, electronic music has always lacked the band centred, swashbuckling abandon that brings together the shared experience felt by a crowd at a gig. Although hardly Axel Rose or Mick Jagger in terms of pomp, the emergence of a more freeform electronic approach. away from the pressures of conforming to club norms, has allowed genuine musicians the chance to do something genuinely recognisable and distinct from what has gone before, which this generation can connect to and call their own. What is still missing from live electronic music both in terms of performance spaces and hardware available?
Jordan: "Nothing… it's all up to us to play interesting soulful and exciting music."
Jonah Sharp: "Nothing – now's the time!"
All of the most integral movements in music have a higher purpose, be it punk or the music of The Civil Rights Movement. Sebastian Mullaert believes that in our uncertain times live electronic music has its own small part to play:
"In this way the music and the dance transcend being 'just' an entertainment and becomes an important tool for people to stay free and alive in their life."
---
Buy the album HERE.