A Frankfurt Education: Roman Flügel Talks
The sculpture of sound, its variations and limitless beauty is often instinctive by nature. Some might say that a musician is born, rather than bred, whilst others cite education as the catalyst for creativity. Somewhere amidst these theories lies the curious opportunist, in this case, Roman Flügel.
Frankfurt's influence on electronic music is vast, far reaching and yet spectacularly undocumented. The nineties were riotous, contagious and wild, Sven Väth's renowned Omen club the equivalent of a church of sorts. For a young, classically trained musician the city was a playground in which Roman sat spinning upon a dizzying roundabout. Excessive parties were paired with foreign influences from the likes of Detroit, Chicago and New York: the result, an education of sorts.
"People had the courage to break the rules and do something which was unusual. In '89 the Berlin wall came down, Germany was opening up. Society changed. Things became really crazy."
The impact of the toppling of the Berlin wall sent shockwaves far beyond the locality of East Germany. Whilst stories of hedonism and freedom echoed across the country, Frankfurt was slowly developing a cultural front all of its own.
"It sounds totally stupid but there was a 'party challenge' between Frankfurt and Berlin. There was always this crew from Frankfurt surrounding Sven Väth and a crew from Berlin surrounding people like Westbam and other bigger dj's. Everyone thought they knew better and how to party harder."
The evolutionary process was underway. Berlin was mutating whilst those in the West watched on beady eyed.
"Berlin held a big attraction for many people. The idea of Love Parade led to things happening very fast, a few years later it became the centre of electronic music in Germany."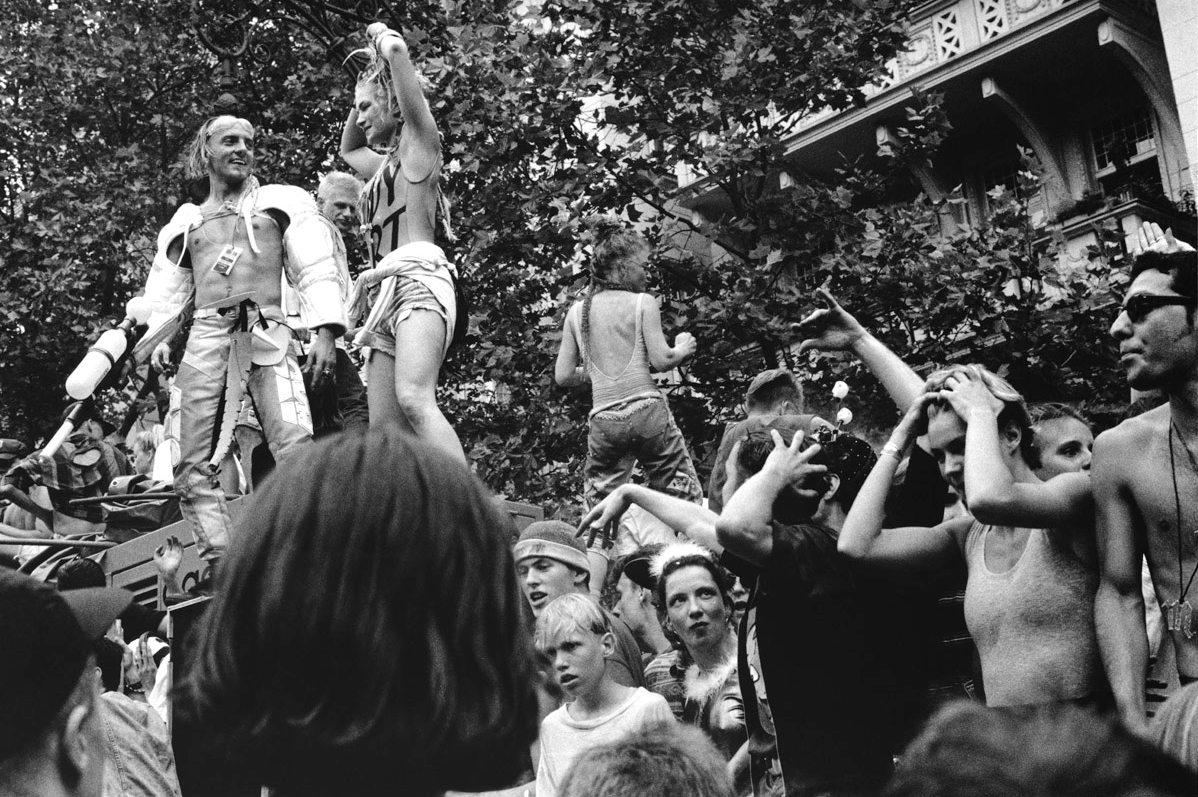 Twenty years on the city is arguably regarded as a mecca of techno, a landmark in its own right. However, Roman is keen to explain that whilst this might be the case, that sense of liberation within present Berlin existed across Germany far more widely in days gone by.
"Back then the scene wasn't as divided as it is today. Today people are happy to go to Berghain because they see different scenes and cultures melting, sexual orientation etc. That was the case at The Omen as well.
There wasn't a one hundred percent chance that you could enter the club. Sometimes it was too full and sometimes the bouncers didn't want to see you. It wasn't easy. People complain about Berghain these days but back then you had to get through the door somehow too. Once you got inside it was very open minded, the music as well. I can remember Sven playing early acid house and really weird stuff from Chicago."
Formative years spent amidst such an environment would later go on to play a fundamental role in the development of Roman Flügel not only as a musician but as a label boss.
Founded in 1993, Klang Elektronik remains one of the most influential labels to have left its mark upon dance music. Run by Heiko Schäfer and Atanasios Christos Macias the label released a vast array of music across many years with the likes of LoSoul, Baby Ford, Johannes Heil and many more featuring. However, it was Playhouse, a sub label of Klang Elektronik, which allowed for Roman to sign and release house music by the likes of Isolée, Ricardo Villalobos and Soulphiction, much of which is still played out in clubs around the world to this day.
"The idea was to do something different. Back then, a lot of the techno around the early nineties was pretty rough and hard. We didn't get along too much with that so we decided to run a label like Klang Elektronik. Then we had Playhouse because we liked house music so much, but it was house music with a certain twist.
There were some producers, like Isolée, who were still living in Frankfurt back then. He was a friend of ours and we listened to his first demos and thought that it was so unusual. We had to put it out. Those people and our feelings about music shaped the sound of Playhouse. It was always about a certain twist and something weird."
They say that record labels of most prominence are those that stumble upon music perchance, it is not sought but found.
"Those records really opened up something else for the scene. We didn't search for something which was already there."
It's hard not to become caught up in the somewhat dream like state of music within Frankfurt during the nineties. With such prevalent characters based in a relatively small area you could be mistaken for thinking that there must have been something in the water. Roman discusses life as a young musician in the area and the resulting friendships.
"Ricardo Villalobos lived near my hometown. We would see each other in the same pubs and clubs. I already knew him before he was doing electronic music, he was a percussionist playing in bands and I was a drummer. Ricardo always had this South American influence, playing percussion music with a South American mentality, you can still hear that in his music to this day.
We both got into going out in Frankfurt a lot, to parties with Sven Väth. From there it wasn't a big step to doing our own parties in our hometown. Ricardo was one of the main people behind throwing parties in really special places, illegal places. That's where we all met, that's where we all got into what we are still doing today."
Fast forward to the present and Roman remains based in the city which taught him so much.
Across the last few years he has released an array of vastly varied music across some of the most prominent labels in electronic music: Hypercolour, Die Orakel, Hivern Discs and Dial are but to name a few. His commitment to self progression and a love for music keeps him humble and honest, whilst Frankfurt offers measures of assurance and a place to truly call home.
"It's a normal life i'm trying to lead. I still really love going in to the studio, for me studio time has nothing to do with work. It gives me a certain release. It's still something I like to do every week. I get kind of nervous when i'm not visiting the studio to be honest. I'm always looking to explore something, it's an almost child like playfulness I have sometimes, i'm always looking to mess around."
It would appear that there is not but one answer as to what truly makes a musician. Inherent behavioural traits? A beautiful education? Rebellion? Passion?
Perhaps, in this case, it's quite simply West Germany.
---
Roman Flügel will play at Houghton Festival alongside Ricardo Villalobos and many others this summer. More information on the festival can be found HERE. Follow Roman Flügel on Facebook HERE.