This Week… Milkshake, Ministers & Mischief
"People never lie so much as after a hunt, during a war or before an election." – Otto von Bismarck
"Accept what people offer. Drink their milkshakes. Take their love." Wally Lamb
"Disco is music for dancing, and people will always want to dance." – Giorgio Moroder
Election time, mistletoe and wine, children cry in the streets at the thought of an impoverished future and the forthcoming apocalypse. It's about a real as it gets…
ANYWAY, moving swiftly on, there's been a lot of debate over milkshakes this week and for once it's not that vegan lot causing hassle again. This time people have been throwing dairy products at some of our much loved politicians. To be precise people have been throwing Five Guys banana and salted caramel milkshake's at Nigel Farage. Apparently the hero in question was "quite looking forward to it" but "thinks it went on a better purpose." It cost £5.25.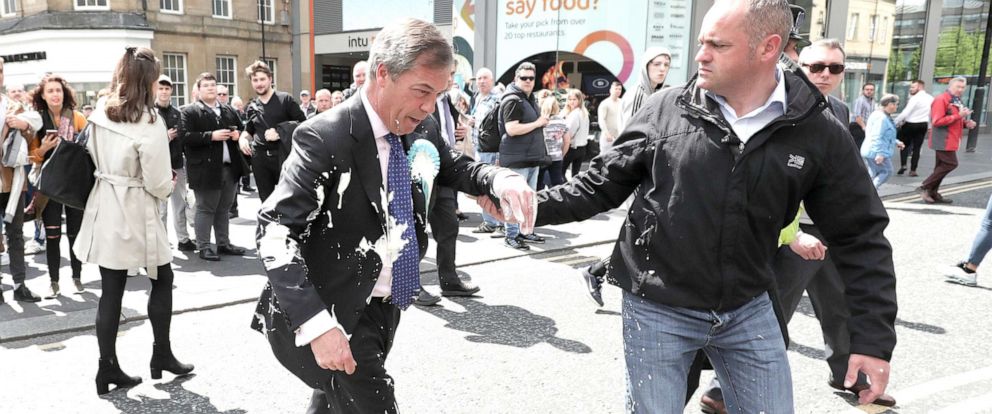 Next on our Ministerial hit list for the week is Andrea Leadsom who decided that Brexit wasn't being treated with enough hardcore grit as she would like. Anyway, we dug up a little bit about the ex cabinet minister and self described "Tory Mum" to show the people just what she's all about… it reads like a bad Twitter bio.
The following was genuinely taken from the following website but has since been removed…
"Take one cup of Anglo Saxon determination;
Mix with a jugful of Muslim respect for the family;
Stir in a pinch of traditional Asian modesty;
Whisk with two tablespoonsful of military respect for authority;
Serve on a bed of East European work ethic;
And enjoy with a full glass of British belief in the freedom of the individual!"
---
WOWOWOWOWOWOWOWOWOWOWOWOWOWOWOWOWOWOWOWOWOWOWOWOWOWOW
WOW
---
Moving swiftly on… there's been a lot of fuss about the latest mixer from Hasbro, apparently it has all the necessary functionality to make the crowd go wild plus it looks as though it's come straight from Al's Toy Barn. WINNING.
Elsewhere in the mad old world of electronic music this guy had a whale of a time… Talk about a job gone wrong..
"It was just an ordinary day in the repair shop, when all of a sudden I was on a planet far away. Everything made sense and I was surrounded by Skittle people…"
Oh, and Carl Craig got laid. Happy Carl.
Game Of Thrones came to an abrupt end this week much to the dissapointment of people who like dragons. Personally I've never been a fan myself but I do understand the pain of losing something which is held dear… So we baked you a cake…
Which means…
Just fuck right off.
Excerpt of the week: "I wanted to tell her about my deceased grandmother's dachshund, also named George, but Mandy started kissing me … we took off our clothes and had sex on the damp, wine-stained sheets, while her dog paced and whined around us. After sex, we passed out."
Bye.x