The kidnapped Fox TOUCHES down on russian soil…
Mike Boorman: I could write a long thesis about the fox's welcome to Russia and the laughable hysteria that has ensued, but there's no fucking point, because this video clip of the news says it all:
Confused? Yup so were we…there's been a lot that's gone since the Fox was handed to Space Dimension Controller… not least of all the fact he's now been kidnapped and is now in Russia. But don't worry, he's safe and sound with Mike & Adele as she lectures on taxidermy…
Mike and Adele will be back next week to explain all… but for now you should check out some of the uproar the fox's visit to St Petersburg has been causing with amongst other people… the Mayor of St Petersburg:

Vitaly Milonov
Deputy
Deputy Vitaly Milonov wants to carve and sent to correctional labor organizers Uporotogo stuffed fox in St. Petersburg. This he said Firstnews.
Vitaly V., do you think, why Uporoty fox is so popular in Russia?
– In Russia, a lot of people who use drugs are socially degraded. They delight in such paintings.
This shows how hard our society. People need to see that this kind of mental illness in our society has come not through Uporotyh Lisov, it's consequences. They come through Uporotyh Gelmanov.Perverts, rust pseudo opens the door to then went Uporoty foxes. Then go child pornography, pedophilia and so on.
Do not think of the devil as the devil. It comes in the form of a handsome young man like modern Koli Baskov (accent on the second syllable – Firstnews). And then Uporoty foxes.
Uporotogo fox exhibit in St. Petersburg should be banned, and the organizers sent to correctional work. I believe that this is not an exhibition, it is simply a manifestation of mental illness, mental illness, these people – the so-called organizers.
If needed permission Poltavchenko for the exhibition, these morons, drug addicts would not have ever got.
Come to the exhibition I can not. If I had my way, I would be well carved these organizers and sent them into Leprozorium for addicts. Let them be treated there.
Luckily the Kremilin overruled said mayor and the fox was allowed to enter the country… it didn't stop the likes of this appearing tho…

You really need to put all these links into Google Chrome and click translate to:
What is "Uporoty fox" and why it did not want to start up in Russia?
Fucking hell, read through that article… there's even cuddly toy effigies of the bloody thing: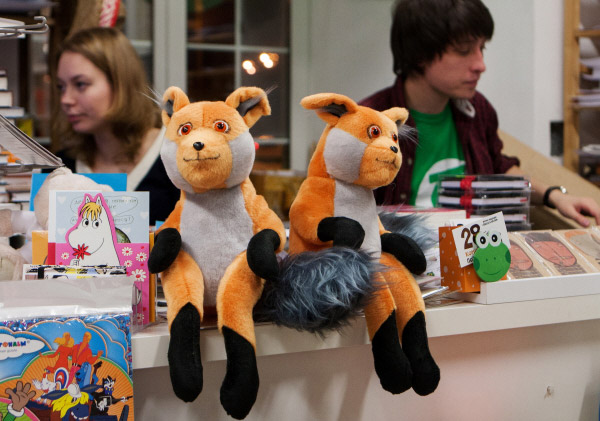 Milonov proposed massively even walk the dogs against "Uporotogo fox"
"We have, in accordance with the law prohibiting propaganda of cruelty to animals taken on my initiative, a mockery of the corpses of animals is prohibited. Organizers should be fined, and dismissed the action itself," – said the deputy.
Malinkovich uporoty vs Fox: Drunken animal – a symbol of the nation? This is a direct insult to the Russian people!
Frankly, I am very disappointed with the position relative to the governor Poltavchenko exhibition uporotogo fox. The man he is orthodox, we are constantly calling for morality.Modest follower of traditional culture. This is a challenge to all: "We do not have to do with it."The owner is in general? Valentina herself would not have led. She would go to hell and kicked the fox, and this proshmandovka. And this says about private property. In fact, for a man who worked in the superstructure, somehow undignified.
Actually lost for words… more next week.