Ian Mcquaid's Top 8 Reasons For Living In 2014
These are the things I spent my leisure time staring at in 2014. Some of them are music and some of them are comics and some of them are just things that weren't even first made in 2014. Who even reads this anyway? It's a collection of things that you could like if you were the weird set of contridictions that make up me sweet white God I'm so damn exciting.
Weird hip hop.
It was the year Young Thug, Rae Srummerd, Makonnen, Rich Homie Quan, Johnny Cinco, Father, Taj Loaf and more put the mad bastard back into MC. Suddenly having a freaked out fucked up flow was the only way to go, and these artists didn't just make genuinely odd music- they made genuinely banging music, if you were paying attention, you would have seen that 2014 was a year when hip hop effortlessly reset its paradigm and showed how endlessly inventive the genre can – and will – be. To all the people listening to dance music's obsessive revivalism: you were looking the wrong way. Here's a couple right off the bat:
Saga by Brian K. Vaughan.
Simply the best comic I've read for years. Non-comic fans would only know Vaughn's name as one of the writers of the increasingly stupid TV epic Lost– don't hold that against him, his true medium is telling stories on paper across panels. Saga is an ongoing analysis of the trials and tribulations of parenthood and love, smuggled under the guise of an intergalactic space opera. Vaughn has deliberately made it as unfilm-able as possible, so there's no point waiting for the big screen version because, as with his other comic epic Y, The Last Man, there ain't gonna be one. The series is currently onto book 4, and I'd urge everyone alive to read it. Plus the art by Fiona Staples is beautiful – alien races never had so much personality, humour, or dread.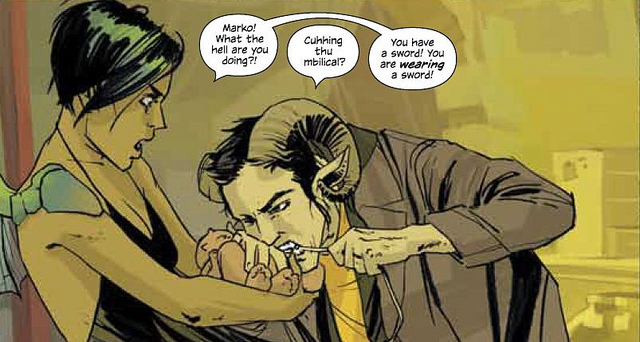 Pat Lyons' speech at the NME awards
Having enjoyed Pat Lyons' unique, rambling – often hammered – jive talk for some years now, nothing made me happier than watching the Fat White Family get Pat up onstage to accept their NME Award. The result was two and a half minutes of genius, starting off with the audience presumably thinking this was some sort of ironic joke, then progressing onto a magical, hideously awkward stage as people realised Pat wasn't going to stop talking any time soon. The most rock n roll thing the NME Awards has ever witnessed.
Jersey Club
For sounding like old skool hardcore made on mobile phones out of low res Vine samples of people sexting, Jersey Club: you are the best xx
This video about Cymatics
Thanks to Bradford Bahamas for putting me onto the greatest post club video ever made.
Grime
Even though I suspect the best grime tunes were written the some 10 years ago, I'm never gonna tire of hearing German Whip or That's Not Me – seeing the mainstream media scrabbling to pretend it had always loved grime was pretty entertaining as well – my favourite moment was witnessing a well known style mag – that I know for an F.A.C.T. had passed on featuring Dizzee Rascal back in the day – knock out a fawning grime retrospective. Some of us have memories yo.
Plus this Stormzy freestyle. Because JUST LISTEN
The Illuminatus Trilogy
I finally started reading this after the Liverpool based, Greg Wilson approved production of Cosmic Trigger reignited an interest in the works of Robert Anton Wilson. It turns out the hype was right – the book is the wildest trawl through alternative history, conspiracy, spirituality and existence that I've read, approaching time in a way that I've only really encountered in Toni Morrison's myth like prose (whilst being a completely different prospect) I'm half wasy through and my mind is blown. Should be taught in schools.
Sticking a piece on acid techno on Ransom Note because no fucker would commission it, and watching it rack up 3,000+ likes in a matter of days.
Balls to you, editors who ignored this one. I was right and you were wrong. HA!