The Rainbow Does Not Offend: How the Polish LGBTQ+ music scene is fighting for their community
Earlier this year Poland was ranked as the most homophobic country in the EU by ILGA-Europe. Their "Rainbow Map" takes into consideration dozens of quality of life aspects, but with a meagre score of 15.86% the country excels only in prejudice. That was still before the disastrous presidential campaign which saw the incumbent president Andrzej Duda use homophobic rhetoric to rally against his opponents. The election was reduced to being pro- or anti- LGBTQ+ — destroying or saving Poland.
But the hate was always strong within the far right circles. Only last year, the Białystok Pride was brutally attacked by a large group of homophobes, while Lublin Pride was almost interrupted by a bomb attack. To this day, a hundred municipalities — almost one third of the country — has been declared a LGBT free zone. The church authorities call queer people "the rainbow plague", deflecting attention from pedophilia scandals in their ranks. Ruling party politicians dehumanise the LGTBQ+ community daily — in their eyes queers are not people, they're some foreign threat to the imagined integrity of a traditional Polish family. Pro-life campaigners spread disgusting disinformation on the streets on trucks plastered with banners likening homosexuality to pedophilia, driving against the court order and with protection of the police. This siege mentality has already led to many acts of physical violence against the LGBTQ+ people, from beatings to suicides.
It was an act of civil disobedience against the aforementioned truck that sparked the most recent wave protests in Poland. The arrest of Margot from the Stop Bzdurom (Stop the Bullshit) collective was a farce, calculated to discourage other activists from taking action. With 48 people put in jail, beatings, sexual assaults and rape threats, the police brutality is instead inspiring a new wave of activists taking to the streets. Inspired by Stop Bzdurom's actions — who stuck rainbow flags on various statues in Warsaw, including Jesus and the Warsaw Mermaid — the symbols of tolerance are appearing everywhere laying bare the absurdities of Poland's judicial system. Most recently, a chalk rainbow on the street was deemed an official threat, while only a few meters away a former presidential candidate and a far right MP Krzysztof Bosak watched a rainbow flag burn with a smirk, whilst calling LGBTQ+ people a "lower form of life".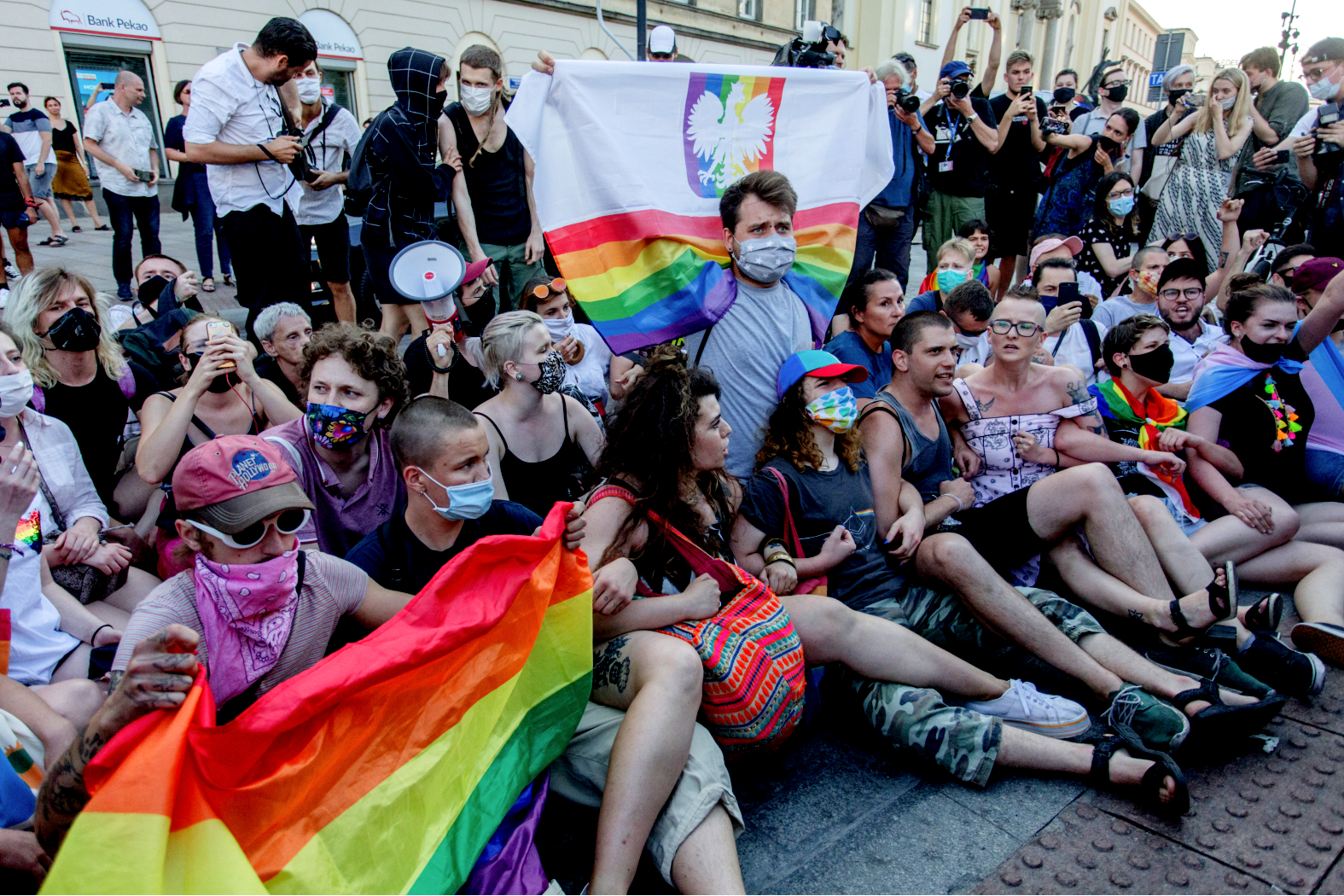 One of the people arrested during the protests was Avtomat, a DJ, producer, and promoter. He's one of the members of Oramics collective, a group for fighting for better treatment of women and queer artists in Central and Eastern Europe. His track 'Ignorance Ha' featured on the colossal Total Solidarity compilation last year, which raised a five-figure sum for the Kampania Przeciw Homofobii (Campaign Against Homophobia).
He sees a positive aspect of the situation: 'I got a lot of support, from the music community, friends and complete strangers alike. We now know who our allies are and our community is paradoxically getting more and more consolidated and galvanised because of what's happened. It is now perfectly clear that all the arrests were political in nature and the aim is to silence us, which is exactly the opposite of what we plan to do.'
The community is showing resistance in many forms. Last weekend, Zamilska who is arguably the most known publicly outed underground electronic artist in Poland appeared on stage clutching a rainbow flag. Masscry, an up-and-coming DJ from Poznań recorded RAINBOW FIGHT, a new mix based on the Stop Bzdurom's manifesto. In Wrocław, Transformator club launched a series of Wednesday parties for the LGBTQ+ crowds.
Avtomat is now working on connecting LGBTQ+ artists in Poland to 'encourage them to share spotlight, resources and bookings amongst each other'. A list of queer artists he's compiling will be part of a broader Oramics project connected with efforts to raise the visibility of female artists as well. 'I would also like it to be available for club and festival bookers and promoters to circumvent their ever-present excuse that "it's difficult to balance line-ups without hard data,"' adds Avtomat.
Avtomat not only wants to reach out to other promoters, but is also paving the way with Ciężki Brokat (Heavy Glitter), a party he hosts together with popular drag queen Aldona Relax and Pupper DJ. 'I strongly believe that queer communities under duress have been responsible for many shifts in ideas and styles in the music scene, so it's also a way to encourage the scene to come up with new ways of expressing themselves,' he explains.
Ciężki Brokat hosts not only music performances, but also promotes local drag, burlesque, vogue and queer performances art. 'It tries to offer a different LGBTQ narrative from the mainstream one that focuses mainly on wealthy, attractive, white gays. We're concentrating on the duality of the queer nature – stuck between beauty and ugliness, sweetness and bitterness, etc.' Avtomat adds. Not being able to organise events during the pandemic, Ciężki Brokat collaborated with Glitter Confusion to present Parada Dziwności (The Queer Parade) as a live streamed alternative to the Pride afterparty, part cabaret, part online party.
Creating a safer space is also very important to Mother Bożna Milan Sarmata, who noticed the lack of ballroom community in Warsaw and decided to throw her first ball in 2016. Since then, Bal u Bożeny (The Ball at Bożena's) has become a regular series and Bożna became one of the most sought after tutors, running a vogue dance workshop series.
Three years later Bożna also went on to establish Kiki House of Sarmata. 'It's the first kiki house in Warsaw. I found it together with my brother Danil Milan as a community for dancers and performers from Poland and Ukraine. Its name is inspired by sarmatism, an ethnocultural concept that was an important aspect of Polish culture in the 18th century. Sarmatas were known for their prowess and valor, but also extravagant style. Leading your own house is a pleasure, but also a responsibility. You're a role model, a teacher, you need to support your family. Fun is important but so is building a space where everyone can express themselves and feel accepted,' says Bożna.
Those responsibilities span many aspects of promoting a night. 'As the promoter and Mother of Polish Chapter of Royal House of Milan I have a duty to educate everyone about this culture, the rules of balls and their categories,' she explains. 'Each ball and each category has its own theme, its own regulations.'
With themes ranging from more abstract ones like Deconstruction in fashion to pop culture and literature references as disparate as Mortal Kombat and Polish epopee Pan Tadeusz, Bal u Bożeny brings together people from various backgrounds.
'The audience is diverse,' adds Bożna, 'it's not only queer people coming from dance, theatre, performance and other art backgrounds, but also heteronormative people simply interested in ballroom. With this variety, it's important for me to bring judges who specialise in different dance styles. Same with DJs who follow up the afterparties.' These so far have included mainstays of the Warsaw scene, Rrrkrta from Brutaż and Facheroia from KEM, along with Berlin artists such as Rui Ho.
'I see ballroom as a very important political tool in the context of what's been happening in Poland lately. I believe that ballroom's message can help us build a sense of belonging and make people more empathic and tolerant. I want the ballroom culture here to be a place of freedom for people who do not agree with imposed heteronormative standards of the outside world, a place where one can build and share their own identities' she adds.
Meanwhile in Kraków, Fermented Girls found their community outside of the usual club structures. 'Our duo was formed at one of the electronic events hosted by Lucciola Ladies Rock Camp. It's an incredible and much needed LGBTQ+ friendly music workshop camp for women, where one can find a lot of support and inspiration to take up music. The relationships we formed there helped us a lot with making first steps and finding first bookings and festival appearances. Those relationships last, not only because of music.'
The duo who are also a couple in their private life are now preparing to perform at Pride this Saturday, 29th August, organised by Queerowy Maj.
'For us it's the most important organisation bringing the LGBTQ+ community and their allies together. It's not only about promoting certain values, they try to make people more open through art and music.' They identify other key actors on the Kraków scene like Spółdzielnia Ogniwo or Unsound. 'They're not strictly queer but they're not indifferent to the struggles of minorities, they're open to discuss and we feel their support. We need more spaces like that, but we notice that more and more organisations speak up understanding that it's a broader problem, not only for the LGBTQ+ people.'
Spaces like that exist mostly in bigger cities in Poland though. Adolescent experiences of people who don't have such access are often stories of horror. 'Homophobic attacks were a daily thing in my life when I used to live in Olsztyn. I felt safe in a few places like my room, but the thicker skin I started growing in my school years doesn't protect me anymore' says Julek Ploski, a musician and co-owner of Glamour label, now also based in Warsaw.
'I have recently released a track 'Tips tqwój pierdolony koszmar at you' (Tips Your Fucking Nightmare Back at You) which I recorded in a state of absolute panic caused by this terrifying dehumanisation coming from both the government and the people. Me and my friends are not feeling safe amidst the rising animosities and political plays. I have only recently realised how my experiences influenced my music.'
'I'm currently working on a club-friendly release and it's going to be about the ecstatic feeling of your own human body. It's a response to the derealisation induced by the political speeches I keep hearing, speeches that make me feel non-human to some people. Also, my next album will be extra pretentious and bombastic, with orchestras, choirs, epic drums – I feel like that's the only space where I can scream and exist without shame,' he adds.
BAS.KOLEKTYW, which released Julek Ploski's debut album Tesco, found their Discord channel as a useful tool to build a new community and offer support to people who wouldn't have anyone to go to protests with.
'The idea for some kind of a community-building platform is something we had in mind for quite some time. The Discord server was probably the most natural thing we could come up with because of the pandemic situation and the fact that we use it either way to play video games. Lately it's become a really useful tool to communicate with our friends and to make sure that they are safe,' explain NO PLS NO and Hæra.
'Two of our friends got arrested so we really took it personally. Some of us started some guerilla activist actions. Some of the people that would not describe themselves as activists went to protests and organised various socially responsible experiences. We figured that some people might not be fortunate enough to have an involved community to support them, especially during protests that proved to be dangerous and violent, paradoxically, because of the police involvement. That is why we encourage people to join the server, find a group they can go with and protest as safely as it is currently possible.'
NO PLS NO and Hæra mention they're hugely inspired by Brutaż. The long-standing platform that used to be one of Poland's most inclusive and influential parties is now a label, but still functions in more ways than a mere imprint, starting conversations on responsibility and the club culture in pandemic time, as well as the situation of immigrants. During the recent protests Brutaż has consolidated the club scene support in major cities into a visible force, bringing different collectives and artists together.
'I think that the pandemic reality has a huge influence on how we connect online', weighs in Mymlan, also from BAS.KOLEKTYW. 'We don't meet offline that much anymore, but now we meet people who were outside of our physical circles. We learn new stories, exchange information, and radicalise. I felt this immensely after Margot was arrested. A few loose relationships quickly turned into a connection to a completely new network of activists, previously unavailable to me. I feel like I've found my place and my people at last, even though the timing is not fortunate. It's energising though. At the protests we take over the microphones and aux cords, we hype the chanters, we play the music for young queers and the dance music community. We try to engage with fresh faces, so they won't get bored quickly.'
Mymlan sees the rising need for new musical voices and calls for artists to participate for the momentum to feel fresh and constantly engaging.
'Don't be shy. If you have the need, come forward. We want to make our own music. Music that's queer and anti-police, criticising the government, underlining in new ways what the Polish queer community is. It's important to support each other, making music, rapping about what's going on, helping each other at the protests, sharing your platform on social media, giving voice to those unheard. It's worth it, even if you reach only one person who might become an activist.'
Other groups — like Legetebe — seek to create networks online connecting like minded artists from Central and Eastern Europe, as almost the whole region lags behind when it comes to LGBTQ+ rights.
'The current situation proves that our strategy was right. The attacks on the LGBTQ+ communities are getting stronger and more frequent, which means we need more action, more ways to reach more people. Each initiative like that gives people strength to fight for their identity and the identity of those close to their hearts. We focus on the whole CEE region because we want to change people's minds. We need structures and support systems for that', members of the collective explain.
'On the other hand we feel the support and understanding coming from the West. We get messages from Vienna, Lisbon or Berlin, where a protest supporting Margot was organised recently in front of the Polish embassy. Our friends are interested in our situation,' they add.
Others notice the silence coming from otherwise very vocal circles. 'It seems like Solidarity is just a cool slogan on the Unsound poster but not really cool enough when the Polish scene is asking for it' says Oramics' Monster. For many, to be Eastern European in the music industry is to often feel invisible and inadequate. Their participation in the industry often resolves to paying exorbitant sums for DJs from Berlin and Amsterdam. Poland is also a brilliant festival destination, where cheap Airbnb and booze is more important than local talent.
The collectives who boast the fight for marginalised communities are spreading awareness in many important cases all around the world, but they don't see what's happening on their doorsteps, just an hour drive from their club utopia. So when Poland, or Hungary, or Belarus are on fire like now and the governments want their citizens to feel alone, it matters a lot to see support from the people they look up to.
---
Photo credit: Karolina Jackowska (Avtomat), CEO (Zamilska), Karolina Zajączkowska (Bal u Bożeny), Łukasz Kowalczuk (Fermented Girls).