There's a lot of work that goes into running a record label, at times it can be a difficult and thankless task. However, there isn't anything quite like the feeling at the end of an accomplished release; record in hand having been supported and purchased by people who believe in and have bought into the music as much as you. That truly is a unique and special sensation.
Mark Seven has been running Parkway for the past ten years, 2021 marks a decade of releases for a label which has become a tried and tested staple of house music culture in the present. It is an imprint which has remained true and loyal to the roots of the sound which Mark first discovered whilst digging in record shops in New York and Chicago way back when.
Based in Stockholm, the imprint has been responsbile for releasing material by an array of musicians. However, Mark has featured prominently on the label throughout with perhaps his biggest achievement coming in the form of a collaboration with the late great pioneering house maestro Boyd Jarvis back in 2018.
Parkway Records has become widely regarded as a uniquely singular and special label in this day and age. It exists as a pivotal connection between house music of the past and house music of the present. It is very much a label run with integrity and spirit.
In celebration of ten years of the label we caught up with Mark Seven to talk about the evolution of Parkway Records and what comes next..
Mark Seven
So, Parkway Records has been in operation for ten years, how does it feel to have made it this far and was there ever any intitial intention to keep it alive for a decade?
I'm really happy about it, to still be able to run the label and keep developing the sound and the look ten years on… and for it to still be finding a audience and to see that grow. I'm at least as excited about it now as I was when I started working on it! Maybe after ten years I have an even clearer picture of what the label is, what it's not and for me the aesthetic side has become clearer.
Describe the original concept behind the label, there's often been a connection made between the label and "classic" elements of house music, was this a deliberate influence?
Yeah, in a way that was deliberate in that I wanted to get back to the basics… to capture that essence. Original records from that era are often raw or simple but the energy and the power to make you move is timeless. I realized that me not having this fancy studio, or even any formal production training or an engineer could be a plus. I had this huge library of music from the era that caught my imagination in the first place and that could be my guide. I was also influenced by my record buying connections and my trips to NY & NJ - from the people I met there and the history of the music that was firing on the east coast before Chicago called it House. All that rich history, those dubs, just that east coast energy.
So it was also a reaction to the times, because back when I started the label there were a lot of producers exploring this chilled, new age sound, bordering on muzak. There was something of a precious attitude to releasing vinyl music and the whole thing felt like it needed a shakeup. Not that I was going to do that, but I wanted to take a distinct step away.
Has this concept changed in the present?
I don't think the concept has changed, no. I've developed it a little, and I hope I've made a more complete picture of it for the audience. I've tried to stay true to the influences and the feel through the promos, the releases and through the mixtapes too but there's always a modern edge in there simply because I'm making this stuff now, not re-releasing old material. I've made about eight Mastermix tapes over those years too and I think that's helped make the idea clearer for people.
What are you looking for in a Parkway release, is it a friends only affair or are you open to new music from afar?
I'm open to a Parkway release from wherever! I don't often hear things that work for it though. But by all means send it over!
You yourself have released music on the label, when it comes to your own music, do you known when you've produced a record destined for Parkway or another label?
Lately that line's got a little blurred. Before I would know "this is a Parkway record" and I probably felt no-one else would be interested anyway! But having worked closely with World Building over the last few years, the current project for them could probably sit just as well on Parkway.
What's your perspective on 'current' house music?
It's hard to define what "current" house music is. It's more like a whole mixup of influences and re-interpretations of sounds from what's gone before… And that's what popular music has always been! Most often the new big thing is a new generation interpreting what's inspired them. When you've been dj'ing and collecting for so many years (read: you're old!) then you hear the cycles of music come around again. It's why I think so many older dj's still can be relevant to clubs even now. I can play old records that I know have elements of the club releases from this week and hopefully I can put it together in a thoughtful way.
Which labels have influenced your own sound and that of the label most prominently?
There's a few labels that inspired me but one single record really stood out and gave me that spark. It's that "Do the Flex" track that Boyd made. The original was only on tape and it got bootlegged on Coko Records and the released version is just ruff as you like. Musically the riff is really similar to the Raww track but it's just so simple, yet genius. It's like my Punk Rock. It just showed me how little you need in terms of production when you have the feeling.
Then of course I can name a whole heap of NYC labels that played in heavily, Easystreet, Pow Wow, Apexton… all that stuff by Paul Scott & Ace. Literally anything Paul Simpson touched up to '87, same with Darryl Payne and of course Boyd Jarvis. I still hear the voice of Colonel Abrams when I write a tune. These are the people who gave me the DNA for Parkway.
Boyd Jarvis
You reflect on the importance of vinyl and on releasing music which is stays true to the roots of the 'classic' house sound - distinct drum sounds, synths, bass-lines etc. Do you still feel that vinyl is the best means of delivery for this sort of music?
It's important, only in that it's important to me. I treasure the physical objects so I enjoy looking through my records and all the cues that gives me. But I'm well aware that for many it's not important to hold the thing in your hands so I took the decision to start the Bandcamp page. Its crazy to just say "naah, you can't have the music unless you go out and buy a turntable!"
Would you be able to tell us a little bit more about those early trips to NY and NJ, what shops did you visit and how did those experiences inspire you?
It stings to talk about now cos I haven't been over there for two years. I got lucky in meeting a great crowd of people - early djs and pool members, and by being decent with them they always just keep introducing me to new names. I met some folks that were real heroes and many that I'd never heard about before but were just as inspiring with their stories and connections. And ALL of them were real characters and were a pleasure to spend time with. Pretty much 100%. That's the thing about the physical objects we were talking about, they connect us through shared history. It was hard work but it was just the best!
I'd go to the record stores too of course, all around the tri-state and PA… Academy, Infinity, 21st Century, Jerry's, Funk-o-Mart… I did quite a few west coast trips too. Some of those stores are still around and some aren't but ALL of them have changed. Discogs changed record shopping like you wouldn't believe!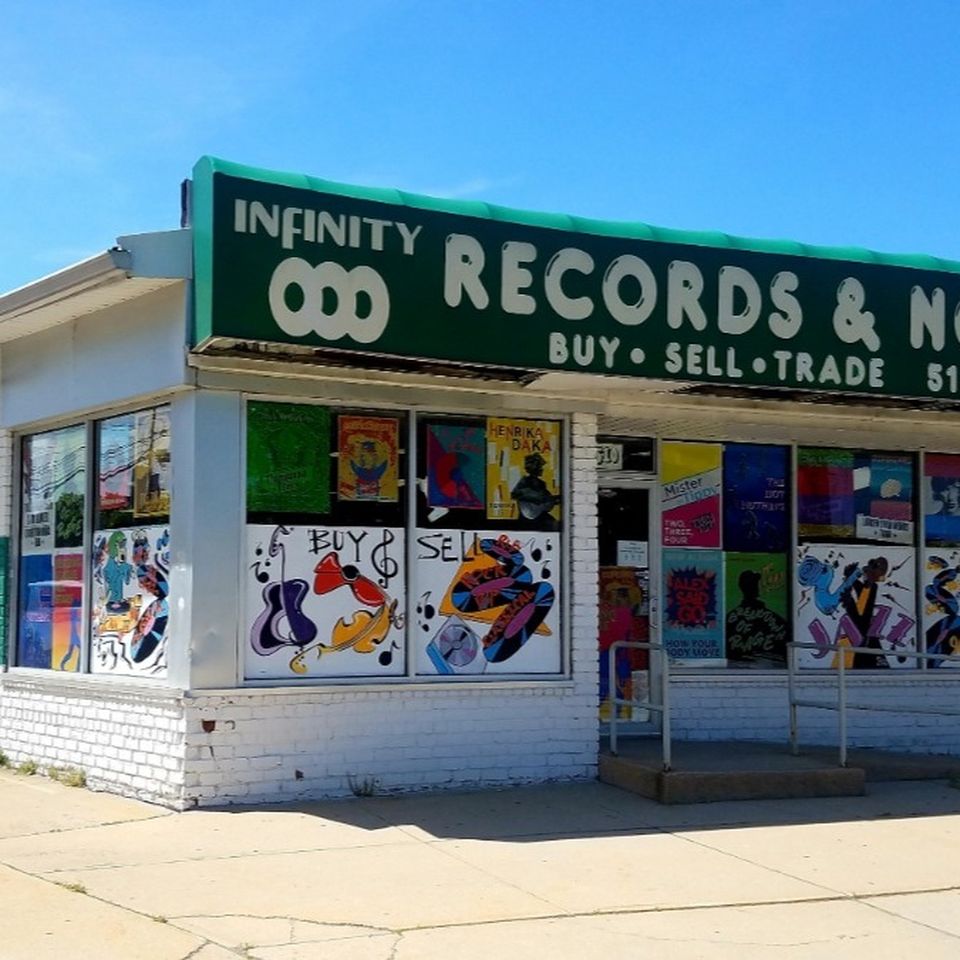 Infinity Records
Vocal house music is far less common in the traditional sense these days, you reflect on the voices of Colonel Abrams etc, why do you think that is?
Why? Maybe in part because of the way the majority of music is produced now…. In bedrooms studios. It's a hard job to write a good song and record it and it costs more money – You need to sell a bunch to make it pay off. Plus the mainstream dance sound seems to be techno, or at least what that name means today - It's changed a lot from the original definition for sure. I'm hoping to start working with original vocals more though, I'm just need to meet that singer!
Buy the latest release on Parkway Records HERE.
Enjoy this article? Want more?
You can support Ransom Note and independent journalism through our Patreon campaign now.
Become a friend of Ransom Note